Interactive: Tracking stops Georgia Senate candidates made in SWGA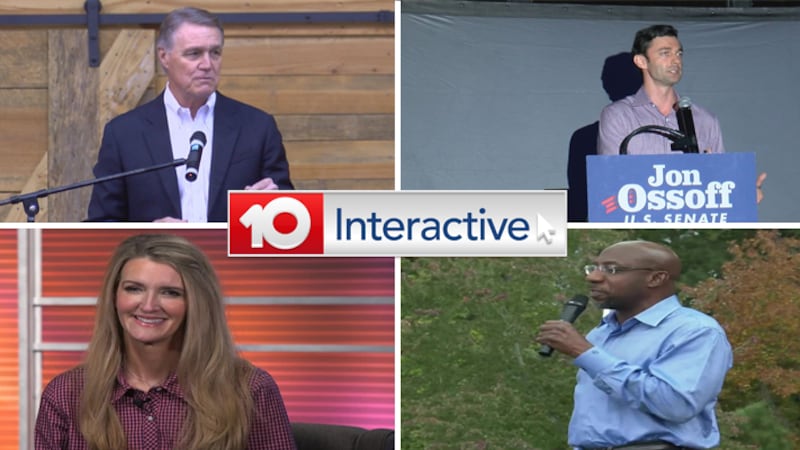 Updated: Dec. 28, 2020 at 10:57 AM EST
ALBANY, Ga. (WALB) - The candidates for Georgia's dual U.S. Senate runoff elections have been campaigning all over the Peach State.
But how often have they stopped in our corner of the state?
Below is an interactive diagram that tracks where and when the candidates stopped in Southwest Georgia, based on WALB's viewing area. Tap or click each county to learn more about that candidate's particular stop.
| Reading this story on the WALB News 10 app? Click here to view the interactive. |
To date, Republican Sen. David Perdue has made the most stops in Southwest Georgia, totaling nine this political season. His first was in Tifton on Oct. 17 and his most recent was at a "Defend the Majority" rally in Ocilla on Dec. 18.
Right behind Perdue is Jon Ossoff, his Democratic challenger for his Senate seat. Ossoff has made six stops in Southwest Georgia, all of them after the Nov. 3 election. His first stop was in Albany on Nov. 12. His most recent stops were in Thomasville, Bainbridge and Valdosta, which all happened on Dec. 18.
Republican Sen. Kelly Loeffler stopped in Southwest Georgia five times.
Loeffler's first stop was in Camilla on Aug. 25. Her most recent stop in Southwest Georgia was on Dec. 5 in Valdosta, where President Donald Trump held a rally for her and Perdue. She was scheduled to be in Albany on Dec. 22 but that stop was canceled after she was in Washington to vote on the latest COVID-19 relief bill. Her visit was rescheduled for Dec. 27.
Raphael Warnock, Loeffler's Democratic challenger, stopped in Southwest Georgia four times.
Warnock's first stop was in Albany on Oct. 10, less than a month before the Nov. 3 election. His most recent stop, also in Albany, was on Dec. 12.
WALB has reached out to the press representatives for all four candidates to see if there were more stops in SWGA than those listed above. This is a running list. If any candidate makes another stop in Southwest Georgia ahead of the January 5, 2021 election date, this story will be updated. Did we miss a candidate stopping in your area? Let us know by sending us a Facebook message.
Copyright 2020 WALB. All rights reserved.