Albany speed cameras have collected over $4M in citations. Here's which cameras have issued the most citations.
Published: Apr. 6, 2023 at 11:37 AM EDT
|
Updated: Apr. 6, 2023 at 6:34 PM EDT
ALBANY, Ga. (WALB) - Over $4 million — that's how much the RedSpeed cameras across Albany school zones have garnered in citations to date since the cameras were installed.
Albany Police Chief Michael Persley said 35% of that revenue goes to the company, and 65% goes to the City of Albany.
There are at least 17 speed zone cameras across Albany.
From the time the cameras were first installed until March 31, 2023, the cameras have generated a total of $4,791,551.30 in citations.
RedSpeed officials said all the citations were issued during the hours per state law and that the cameras were implemented because a study showed an alarming rate of speeding in school zones.
"It's a documented fact that pedestrian fatality rates are up 150% in only 10 years," Bo Dorough, Albany mayor, said.
Throughout WALB News 10′s Lenah Allen's investigation, some staggering numbers regarding the number of citations issued at each location so far were uncovered. Each ticket ranges from $75 to $180.
Here is the list of speed camera locations with the amount of citations issued:
1009 Blaylock St S/B, Albany, total: 3,703

128 N Westover Blvd N/B, Albany, total: 3,681

1420 Oakridge Dr E/B, Albany, total: 8,171

1425 Oakridge Dr W/B, Albany, total: 10,065

1603 Newton Rd S/B, Albany GA, total: 656

1806 E Oglethorpe Blvd. Albany GA W/B, total: 5,787

1809 E Oglethorpe Blvd. Albany GA E/B, total: 9,491

1820 Newton Rd N/B, Albany GA, total: 520

2032 N Slappy Blvd Albany GA N/B, total: 11,850

205 N Westover Blvd S/B, Albany, total: 6,341

2135 Whispering Pines Rd W/B, Albany, total: 2,822

2207 N Slappy Blvd Albany GA S/B, total: 12,889

397 E Oakridge Dr, Albany GA E/B, total: 5,084

402 E Oakridge Dr, Albany GA W/B, total: 3,460

512 N Monroe St N/B, Albany, total: 12,793

908 Blaylock St N/B, Albany, total: 3,391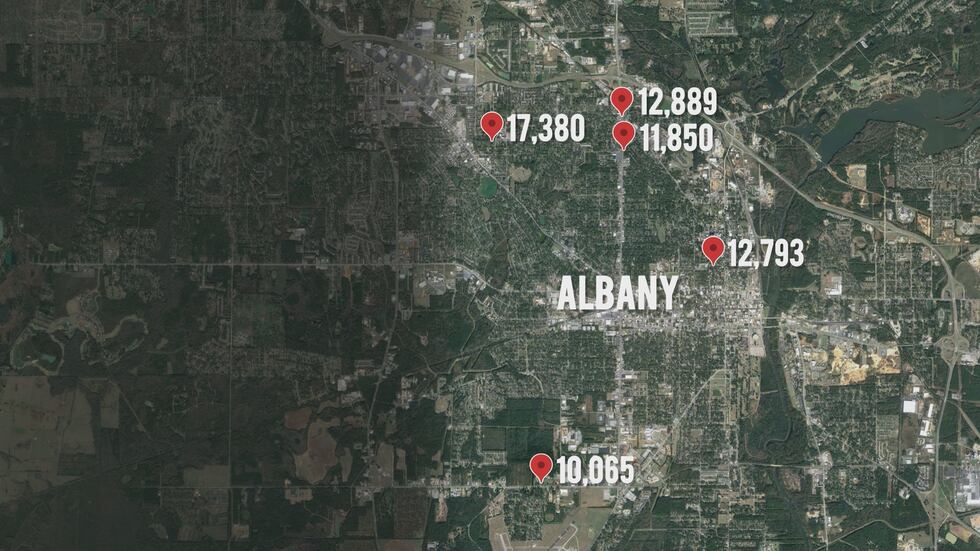 The school zone that's given out the most speeding citations within two years is the one located near Sherwood Elementary School on 2135 Whispering Pines Road, which has issued 17,380.
All 17 speed zone cameras have issued over 118,000 citations combined. That's more than Albany's population of over 60,000 people.
Not everyone has gotten a ticket. Instead, some residents like Rick Muggridge have racked up more than one speeding ticket. In his case, he's gotten five.
"I got quite a few, quite quickly and learned my lesson," he said.
Muggridge said his biggest complaint is where the speed cameras are being placed.
"This is really not a school zone. The schools are a thousand feet away. There's a fence between the school and us and there are no children walking in and from school," he said.
He also raises concerns about where the revenue is going — saying it's hurting businesses and most of all the people of Albany.
"Albany needs all the money it can get. The City of Albany commissioners don't need to be sending our money to Atlanta," he added.
City leaders said every penny of the revenue received by the city goes right back into public safety initiatives, like signage and flashing lights.
"We wanted to add uniformity to school zones. We put flashing lights in places that never had flashing lights," said Persley.
Overall, he said the cameras have been working.
"We have seen a decrease, and even if you drive out, you can drive out to these locations today and you'll see that the driving behavior has changed for a lot of people and that's the biggest thing we want," Persley said.
Dorough has one message for those who still say the cameras are a money scheme.
"Quit speeding and you won't have to worry about it," he said.
Copyright 2023 WALB. All rights reserved.