UPDATE: Suspended Worth Co. sheriff granted bond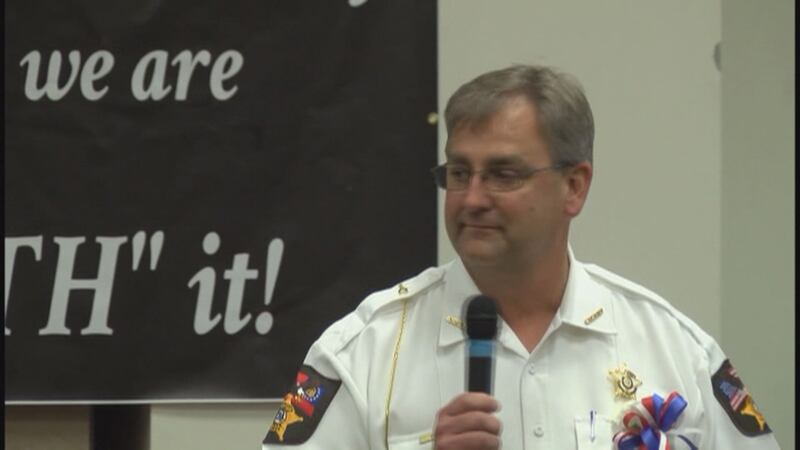 Published: Dec. 6, 2017 at 10:48 PM EST
|
Updated: Dec. 8, 2017 at 6:16 PM EST
WORTH CO., GA (WALB) - Following hours of testimonies, a judge granted suspended Worth County Sheriff Jeff Hobby a $31,000 bond on Thursday.
The bond, issued by superior court judge Bill Reinhart, came with some restrictions. Hobby cannot speak to anyone who was employed at the sheriff's office between April and now, except for his wife.
Hobby is also not allowed to go to the sheriff's office, but he is allowed to visit his attorney's office, which is right down the road.
Hobby posted bond within an hour of Reinhart's decision.
Dozens of citizens attended the bond hearing which started around 9:30 a.m. and wrapped up just before 4:30 p.m.
Witnesses included people who work in the sheriff's office.
One woman who works closely with Hobby's wife said there has always been a comfortable atmosphere at the sheriff's office when he was there. She said he always told his employees to tell the truth.
She and others who worked in the office described an incident that happened shortly after the sheriff was suspended by Governor Deal. People within the sheriff's office testified that the sheriff was pulled over for speeding by one of his deputies, but the deputy did not realize it was Hobby.
After the incident Hobby went to the sheriff's office to return some of his gear. Multiple witnesses testified about how he acted when he went into the office. A few said he did appear upset. One said he swore. She said it was a very rare occasion that he did swear, but she said he left shortly after.
Hobby's sister was one of the first to take the stand in the hearing. She testified on behalf of his character and his long-time history with Worth County.
"Jeff loves this county and he loves every citizen in this county, and he would do whatever it takes to rectify the situation," said Hobby's sister Kelly.
Kelly continued when District Attorney Paul Bowden cross-examined her about an incident in the sheriff's office where Bowden said some witnesses said he was very angry.
"I do know my brother's personality," she said. "I know how he is and how he handles situations."
On Wednesday, Hobby was charged with influencing witnesses, obstructing law enforcement officers and violation of oath of office.
Investigators said those charges stem from Hobby's actions while a grand jury was hearing evidence on the case against him.
Hobby faces other charges from a controversial drug search at the Worth County High School last April.
Some have said the suspended sheriff has not done anything wrong.
Other deputies testified on Thursday that the suspended sheriff threatened people's jobs if they talked to outside agencies about internal matters, including the District Attorney's Office or Georgia Bureau of Investigation.
Deidra Whiddon was one of the deputies also indicted for the school search in April. On Thursday, she took the stand, nearly breaking down in tears, saying she feared what Hobby would do about her job if she spoke about what happened.
The lead GBI agent on the case, Cliff Tippens gave his testimony as well, telling the judge he did not think the sheriff should be let out on bond because of his current status.
"Sheriff Sapp and I both discussed our concerns that sheriff Hobby's demeanor and attitude have progressively changed and I perceive that to be a threat to both Sheriff Hobby's safety and the safety of others," said Tippens.
Tippens said he has spoken with many people who work in the office. He said they have broken down into tears speaking to him about what has happened in the sheriff's office in the past few months.
Major Mike Haralson was not working at the sheriff's office at the time of the school search, but during his testimony Thursday, he described a conversation with Sheriff Hobby about firing deputy John Brannen.
Brannen recently resigned from the office.
"He said specifically that, and I'm paraphrasing, he runs his mouth too much to people he shouldn't. To some of the deputies, to the community, the district attorney's office," said Haralson.
Hobby's attorney cross-examined Haralson, showing that Haralson knew Brannen had been a deputy he needed to keep an eye on.
Hobby was transported to the Turner County Jail ahead of the hearing on Thursday.
His initial arraignment for his charges was set for December 11, but that has been waived.
According to Tift Circuit District Attorney Paul W. Bowden, it could be April before Hobby goes to trial.
Copyright 2017 WALB. All rights reserved.
Keep up with WALB on the go! 
Follow us on social  
 and download our apps!