AMA roof slashed by Monday storm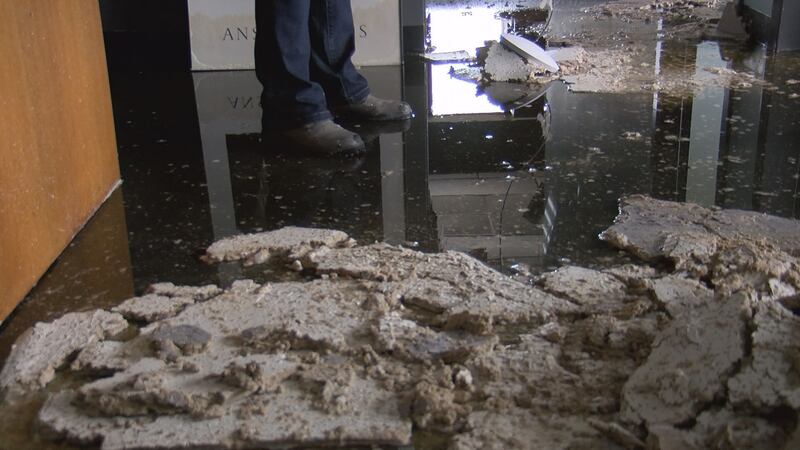 Updated: Jan. 3, 2017 at 5:14 PM EST
ALBANY, GA (WALB) - The Albany Museum of Art sustained heavy water damage Monday night.

Buckets are set out to catch water dripping from the roof, and art work lines the walls, waiting to go to a new home.

"Coming inside, I could never have imagined what a mess we have. It's a mess," said Director Paula Williams.

After waking up to storm damage at her home, Williams quickly headed over to the Albany Museum of Art.
"Coming up the drive and seeing the museum this morning, a place that I dearly love, it's hard," she said through tears.
When she walked into the building what she saw was even worse.

"Water is everywhere. The roof is leaking. About two-thirds of the roof was blown off," said Williams.

The roof now covers much of the floor, water stands in puddles, and folks are working hard to save the most precious pieces of the building.
"Our biggest concern is the artwork, and the care of the artwork which we are entrusted with," said Williams.

Staff members from various other museums are coming in to help move the art to safe locations.

"We have taken every step to be sure that everything that was on display is secured," explained Williams, "Looking forward to a bright future. The sun is coming out, and we're ready to rebuild."
Williams said she knows the community is supportive, and they will come back from this tragedy stronger than ever.
"Looking forward to a bright future. The sun is coming out and we're ready to rebuild," Williams said.
Williams said the building will have to be stripped to the beams and rebuilt.
Copyright 2017 WALB.  All rights reserved.