Special Report: Football helmet dangers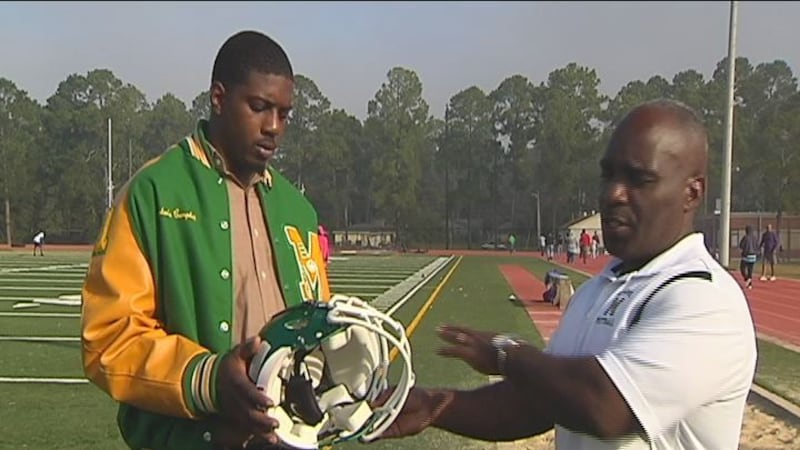 Published: Oct. 30, 2014 at 6:47 PM EDT
|
Updated: Oct. 30, 2014 at 11:33 PM EDT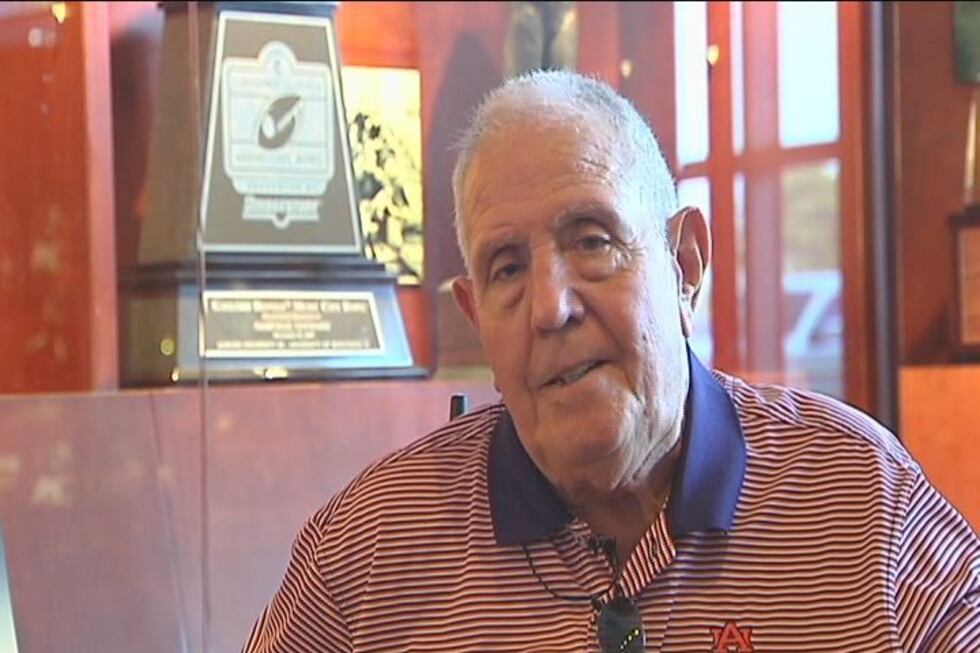 ALBANY, GA (WALB) - Frank Orgel didn't always have to use a wheelchair, and experience the difficulty of having paralysis on the left side of his body associated with Amyotrophic Lateral Sclerosis, also known as Lou Gehrig's Disease or ALS.
The 76-year-old Albany native was once the defensive coordinator for Auburn University's football program.
"That's the Sugar Bowl trophy right there.. we beat Michigan when I was here," he said pointing to a large shiny solid silver cup.
Before he was a coach, he was a player.
"It's just part of me," he said. It's hard to give up."
But some doctors question whether the sport he loves so much is also what put him in a wheelchair.
"That's what some of the doctors say," said Orgel, "that it only really takes one lick in the right spot for it to trigger the ALS."
Three years ago Orgel was diagnosed with ALS. Doctors believe it was triggered by a concussion.
Orgel can recall at least five he sustained in his sports career.
But technology has dramatically changed in the 25 years since his coaching days.
Devonntavius Campbell, a senior football player at Monroe High School, said the helmets they use now make him less afraid of getting a concussion.
"I know it's rare that I can catch a concussion with this helmet on, because it has more padding and stuff."
That padding in helmets was recently rated in a Virginia Tech/Wake Forest Biomedical Engineering study to judge their ability to reduce the risk of concussion.
They rated helmets from 1 to 5 stars, with 5 being the best.
And, according to school records, many South Georgia schools use helmets that are at least 3 stars or above.
Dougherty County schools said they actually reference the study as a requirement.
When asked about their helmets, Wilcox County High School said they use several during a season. But their list includes one helmet, known as the Schutt Air Advantage, which only received 2 out of 5 stars in the safety study.
Coach Charles Truitt of Monroe High School said a team's helmet choice is a mix of safety and cost.
"We were encouraged as much as we possibly can financially, to try to make sure we have our kids in a helmet that's recommended by the study," he said.
Most schools use a variety of helmets, with air cushions, to make sure players have the best fit.
They can achieve a more custom fit by adjusting the air inside.
Colquitt County High school uses five different helmets, which are all rated at 3 stars or above.
The school's Athletic Trainer Ryan Kebler said a helmet with a true fit is completely necessary.
"It's a collision sport. It's dangerous and the helmet is the vital, protective piece. So I like to have a helmet that's going to fit each player well and be comfortable and protective," Kebler explained.
Frank Orgel said he is pleased with the advancement of football helmets and, in spite of his condition, doesn't regret his days on the gridiron.
"A lot of people say, 'well if you hadn't been in football you probably wouldn't be in a wheelchair.' And I don't know that I would do anything different," said Orgel.
MORE: See the entire study here
South Georgia schools and the helmets they use:
Turner County High School:
Schutt Vengeance
Schutt DNA Pro
Riddell Revolution
Cook County High School:
Riddell Revolution Speed
Lowndes County High School:
Riddell 360
Riddell Revolution Speed
Schutt Vengeance VTD
Wilcox County High School:
Schutt Air Advantage
Schutt Pro Air II
Schutt DNA Pro
Schutt Air XP
Tift County High School:
Xenith X2
Schutt Air XP
Schutt Vengeance
Riddell Speed
Worth County High School:
Schutt Vengeance
Riddell Revolution Speed
Colquitt County High School:
Rawlings Tachyon
Schutt DNA Pro
Schutt Vengeance
Riddell 360
Riddell Revolution Speed
Crisp County High School:
Xenith X2E
Riddell Speed
Schutt DNA
Schutt Pro Air
Dougherty County Schools
Monroe High School:
Riddell Revolution Speed
Schutt Air XP
Albany High School:
Schutt Vengeance
Schutt Air XP
Westover High School:
Schutt Air XP Pro
Schutt Vengeance
Dougherty Comprehensive High School:
Riddell Revolution
Riddell 360
Lee County High School:
Xenith X2
Riddell Revolution Speed
Deerfield Windsor:
Riddell Revolution Speed
Copyright 2014 WALB. All rights reserved.