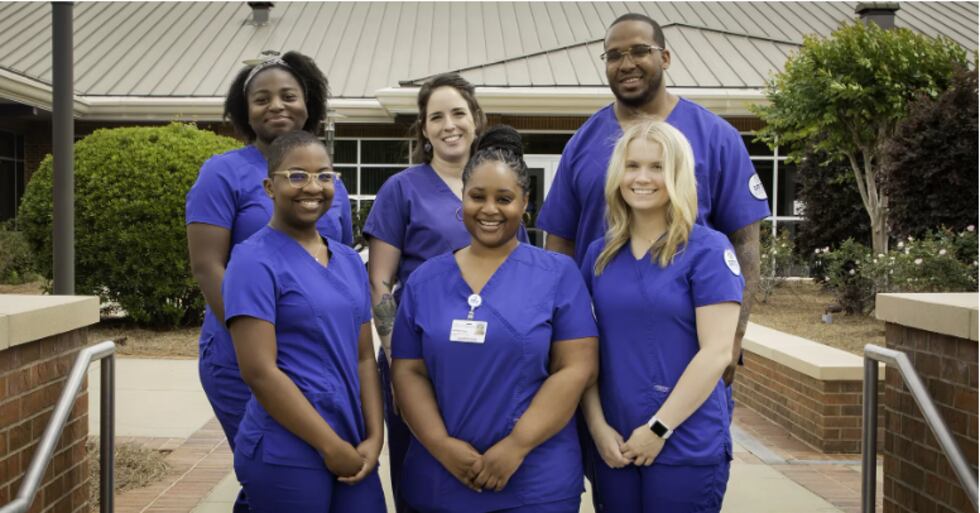 Sponsored - The following content is created on behalf of Southern Regional Technical College and does not reflect the opinions of Gray Media or its editorial staff. To learn more about Southern Regional Technical College, visit https://southernregional.edu/
Southern Regional Technical College's (SRTC) Medical Laboratory Technology (MLT) program held a pinning ceremony Wednesday April 12, marking the completion of the program for six students. Lasandra King of Thomasville, Joshua Pope of Tallahassee, Aaliyah Robinson of Thomasville, Joydan Smith of Poulan, Nina Thames of Bainbridge, and Heaven Weeks of Moultrie each graduated with an Associate of Applied Science Degree in Medical Laboratory Technology from SRTC.
In addition to the accomplishment of completing the rigorous coursework required by the Medical Laboratory Technician program bestows two awards to distinguish outstanding achievement by students. Aaliyah Robinson earned the Highest Grade Point Average award. The Ambassador's Award is given to an individual who demonstrates an extraordinary commitment, take responsibility, are team leaders, are goal-driven, respectful, and have academic competency. This year, Joydan Smith earned the Ambassador Award.
"I am so proud of this graduating class," said Vickie Smith, Medical Laboratory Technology Program Director. "I witnessed these students develop a bond between each other as they forth a positive outlook and attitude in the classroom. This connection established shared motivation and helped them put forth their best effort in completing their goal. This program is not easy, but they all had what it took to make it. I am very proud of them!"
The program is accredited by the National Accreditation Agency for Clinical Laboratory Sciences (NAACLS). With this accreditation, graduates may sit for the American Society for Clinical Pathology (ASCP) National Certification Exam to become Certified Medical Lab Technicians. Graduating from a NAACLS accredited program and passing the national certification is the only way someone can be employed in a clinical lab at a hospital.
SRTC's MLT Program is a sequence of courses that prepares students for careers as medical laboratory technicians. Students learn to perform clinical laboratory procedures under the supervision of a qualified pathologist and/or clinical laboratory scientist. These tests are used to detect things such as blood type, HIV-AIDS, diabetes, hepatitis, anemia, West Nile virus, and much more. Throughout the program, classroom training is integrated with clinical experiences under the medical direction of cooperating hospitals.
For more information about the Medical Laboratory Technology program, please contact Vickie Smith at 229-225-5203 or email gsmith@southernregional.edu.
SRTC offers over 150 degree, diploma, and certificate programs that are designed to get you quickly into your desired career, and 28 general education courses that transfer to the University System of Georgia institutions and 19 private colleges and universities in Georgia. SRTC has instructional sites located in Colquitt, Decatur, Early, Grady, Miller, Mitchell, Seminole, Thomas, Tift, Turner, and Worth counties for the convenience of our students. The College is accredited by the Southern Association of Colleges and Schools Commission on Colleges (SACSCOC). SACSCOC is the regional body for the accreditation of degree-granting higher education institutions in the Southern states. For the most up-to-date information on registration, class dates, and program offerings, log on to www.southernregional.edu.
Summer semester begins May 15! Don't wait, enroll today!