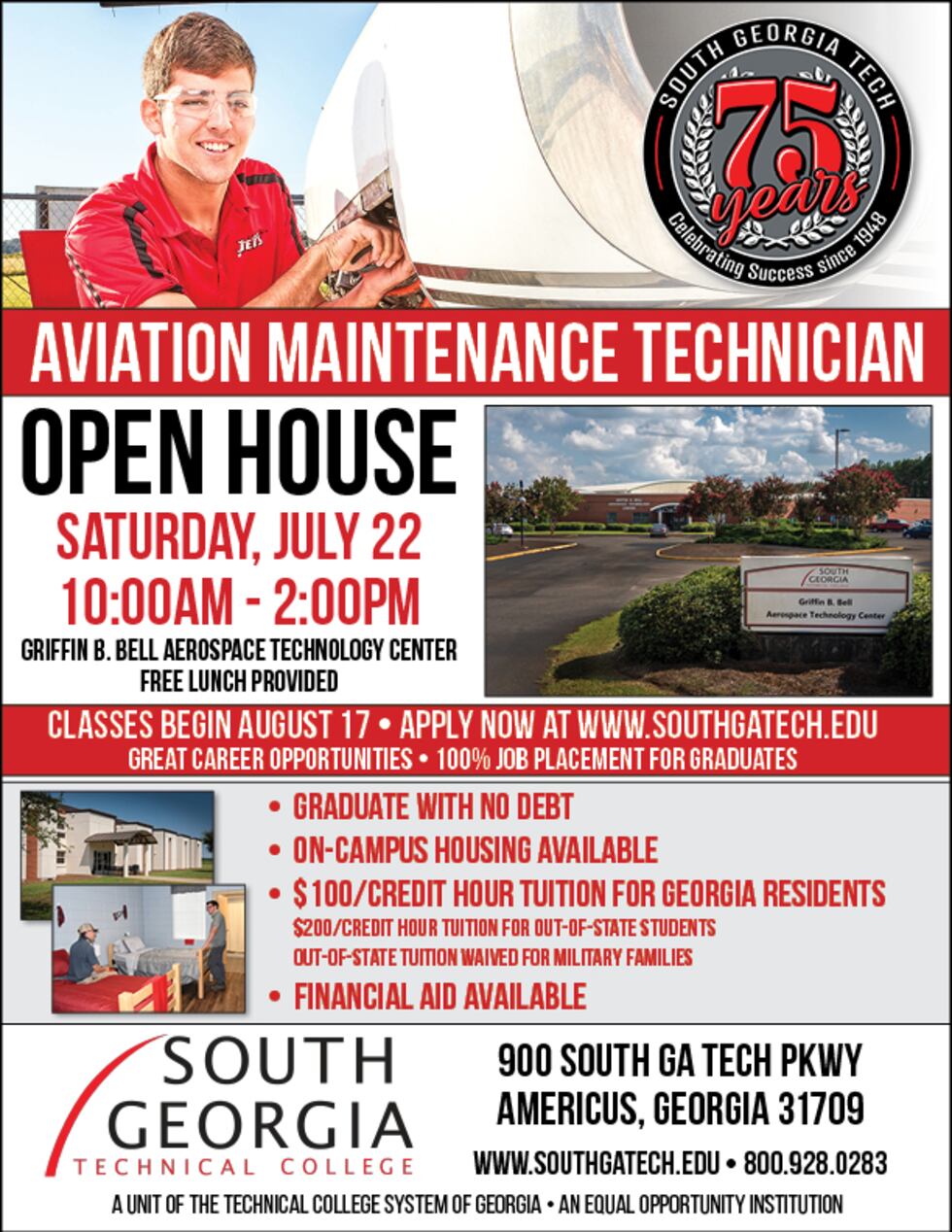 Sponsored - The following content is created on behalf of South Georgia Technical College and does not reflect the opinions of Gray Media or its editorial staff. To learn more about South Georgia Technical College, visit https://www.southgatech.edu/.
South Georgia Technical College (SGTC) is hosting an Aviation Maintenance Open House on Saturday, July 22 from 10 a.m. to 2 p.m. in the Griffin B. Bell Aerospace Center on the Americus campus. The public is invited to attend and tour the facilities. Lunch will be provided. Fall semester begins August 17th and it is not too late to apply.
"South Georgia Technical College is Georgia's oldest aviation maintenance educational training facility and one of the oldest in North America. Our college is celebrating its 75th anniversary this year and aviation maintenance was one the original programs offered beginning in 1948. Over the past seven and a half decades, the college has graduated exceptional aviation maintenance technicians including state and national SkillsUSA winners," explained SGTC President Dr. John Watford.
SGTC offers Aviation Maintenance Technology, Avionics Technology and Aircraft Structural Technology programs. The college has a 100% job placement rate for graduates. On-campus housing is available and SGTC provides the "Complete College Experience" with nationally ranked academics, student activities, and intercollegiate athletics.
The aviation maintenance programs last from four to six semesters and financial aid is available including the HOPE Grant, HOPE Career Grant and the Federal PELL grant. SGTC is also a Federal Aviation Administration (FAA) approved training and testing site. All SGTC aviation students have the opportunity to take the FAA Airframe and Powerplant license exams upon graduation. SGTC aviation maintenance graduates can work anywhere in the United States with an FAA Airframe and Powerplant license.
South Georgia Technical College Aviation graduates are employed by Gulfstream Aerospace, the Warner Robins Air Force Base, Delta, Southwest, Thrush, Pratt and Whitney, Lockheed Martin, Cessna, Maule, and other companies.
South Georgia Tech has been ranked as the top community college in Georgia for four consecutive years by two different organizations. The college offers over 200 associate degree, diploma, and technical certificate of credit educational programs. SGTC has also waived its admissions testing requirements for Fall Semester, which begins August 17th.
The SGTC Aviation Maintenance program classes are held in the 42,000 square foot Griffin Bell Aerospace Center and has five full-time instructors. Victoria Herron, an SGTC Aviation Maintenance Technician graduate with over 20 years of experience in education and in the industry, is the Lead Instructor and Department Chair for the program.
Beginning Fall Semester, the HOPE grant will pay 100% of the tuition costs for eligible Georgia residents. And since the Aviation maintenance programs are classified as HOPE Career Grant programs (High Demand Industry), full-time students will receive an extra $500 to cover the cost of fees ($391). On-campus housing is available for $3000 per semester for a double-occupancy room with a private bath. That fee includes 19-meals per week, WiFi, and cable TV.
The actual cost of the aviation program before financial aid is $100 per credit hour ($200 for out of state students) plus $391 in fees. Aviation Maintenance students take 15 to 18 hours per semester. SGTC only charges tuition for up to 15 credit hours per semester. Students that qualify for the HOPE Grant, HOPE Career Grant and receive the full federal PELL grant can attend at no personal cost as long as they maintain a 2.0 grade point average. SGTC does not accept Stafford loans, so students graduate debt-free.
For more information or to apply, visit the South Georgia Technical College website at https://bit.ly/44kmwZb and click on Apply Now. SGTC will be hosting open registration and orientation sessions for Fall Semester on July 18 and August 15. Individuals requesting on-campus housing are encouraged to attend the July 18 registration day at 9:30 a.m., 1:30 p.m. or 5 p.m. to insure housing space is available.
SGTC Admissions Director Candie Walters can be reached at cwalters@southgatech.edu or 229-931-2299. SGTC Aviation Maintenance Lead Instructor and Department Chair Victoria Herron can be reached at vherron@southgatech.edu or 229-931-2584. For other inquiries, text or email sgtc411@southgatech.edu