When it comes to football coaches, the SEC just means more impatience. 2 coaches fired already
Two Southeastern Conference football programs have already fired their coaches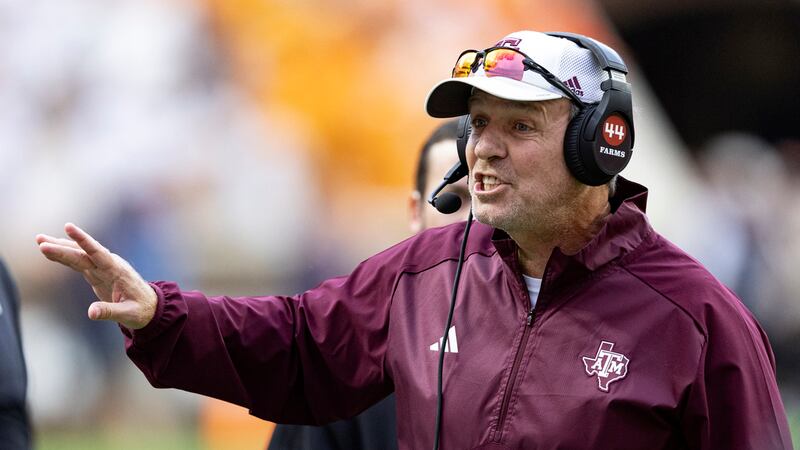 Published: Nov. 15, 2023 at 1:15 PM EST
Welcome to life in the Southeastern Conference, where you can coach against each other one day and be fired the next. Or the day after that.
Texas A&M's Jimbo Fisher and Mississippi State's Zach Arnett are the SEC's first head coaches to lose their jobs this season, but there is no guarantee they will be the last. No matter the cost.
Even Fisher's guaranteed money was no guarantee. Fisher walks away with more than $75 million as a buyout, a cool $1 million-plus for every game he has coached the Aggies. Arnett gets a fraction of that from his four-year, $12 million deal. Fisher was fired a day after the Aggies' 51-10 win Saturday over the Bulldogs, and Arnett was ousted on Monday after coaching just 11 games. He took over following the death of Mike Leach last December.
Perhaps in the SEC, it just means more ... impatience.
"Since when have college fan bases been patient? That's what I'd like to know," Florida coach Billy Napier said. "Everywhere I've been, the fan base is impatient in my life."
Expectations are perpetually high throughout a league that has won the last four national championships. And schools often don't want to wait until after the season with a December signing period looming for recruits.
Even Mississippi's Lane Kiffin finds himself surprised by the volatility in major college coaching. And he was once famously fired from USC in the wee hours at an airport following a loss.
"It's not like it used to be," Kiffin said. "There used to be time to build things and you had years to build classes and see them develop before people made decisions. That's obviously not what's going on. To be let go 10 games into your first season when you get hired late like Zach, I mean, I don't know how you do that that fast or how the expectation is to judge you that fast about the job that you did.
"Unfortunately, it's kind of the in thing to fire people fast. To me, it's a lot of grass is always greener."
With a couple of regular-season games remaining, plus bowls for most league teams, here's a look at how green the grass is for the SEC coaches:
HOT SEAT
Arkansas coach Sam Pittman got his tenure off to a strong start, but his Razorbacks (3-7, 1-6 SEC) have dropped seven of their last eight games and are coming off a 48-10 home loss to Auburn. Pittman said he came to Fayetteville intending for it to be his final job before retirement.
"I'm not close to that year right now, and the plan is to get this program back to where it deserves to be and stay here as long as we possibly can," said Pittman, who is 22-24 with the Razorbacks. "I'm not worried about my job security at all. I think I'm the guy for the university and I want to stay here a long time.
"I just think it's a much bigger issue with the media than it is with myself"
He already fired first-year offensive coordinator Dan Enos after a 7-3 loss to Mississippi State.
WARMING UP
South Carolina's Shane Beamer and Florida's Napier.
The Gamecocks have endured a four-game SEC losing streak that included squandering a 10-point lead in the fourth quarter to lose to Florida 41-39 on Oct. 14. They've got to beat Kentucky this week and rival Clemson on Nov. 25 to guarantee the postseason.
Napier is 11-12 at Florida with losses to Vanderbilt and Arkansas, but Napier has a top-five recruiting class in the works that includes highly coveted quarterback DJ Lagway.
Napier was hired to rebuild the program from the ground up, and AD Scott Stricklin has indicated he plans to give him the time and resources to get it done. One could easily argue that Napier could have been included in the next category.
SAFE FOR NOW
Tennessee's Josh Heupel and Vanderbilt's Clark Lea.
Heupel has maintained the Volunteers as a Top 25 program despite scholarship reductions. The Commodores have played a home season through stadium construction, and Lea also has quite the building job.
SOLID GROUND
LSU's Brian Kelly, Mississippi's Lane Kiffin, Missouri's Eliah Drinkwitz and Kentucky's Mark Stoops. Drinkwitz seemed to have a warm-ish seat entering the season but he has his team ranked 11th.
Kelly hasn't been able to meet the high expectations fostered partly by his terrific debut season, but he has a proven track record — and a 10-year contract. Kiffin has consistently maintained one of the SEC West's top teams — and leads the league in quips.
LIFETIME CONTRACTS
If any current coach had one, then it might well be Alabama's Nick Saban and Georgia's Kirby Smart. Saban has added six national titles to the Tide's trophy cases. Smart has led the Bulldogs to back-to-back titles.
JUST GETTING STARTED
Things are looking up at Auburn, where first-year coach Hugh Freeze has the Tigers bowl eligible to start his rebuilding job. For future reference, they're seldom patient with coaches on the Plains.
Then again, it's the nature of the beast for coaches making millions. And with programs willing to fork over $75 million for a change.
"Nothing really surprises me relative to what universities are willing and can commit to," Kelly said. "There's a large financial piece that's involved in this and everybody's all in. So because of that I think everybody can assume that if you're not getting the results that you want, change can easily happen."
___
AP Sports Writers Pete Iacobelli, Mark Long, Brett Martel and Teresa Walker contributed to this report.
___ Get alerts on the latest AP Top 25 poll throughout the season. Sign up here ___ AP college football: https://apnews.com/hub/ap-top-25-college-football-poll and https://apnews.com/hub/college-football