A man arrested over death of a hockey player whose neck was cut with skate blade is released on bail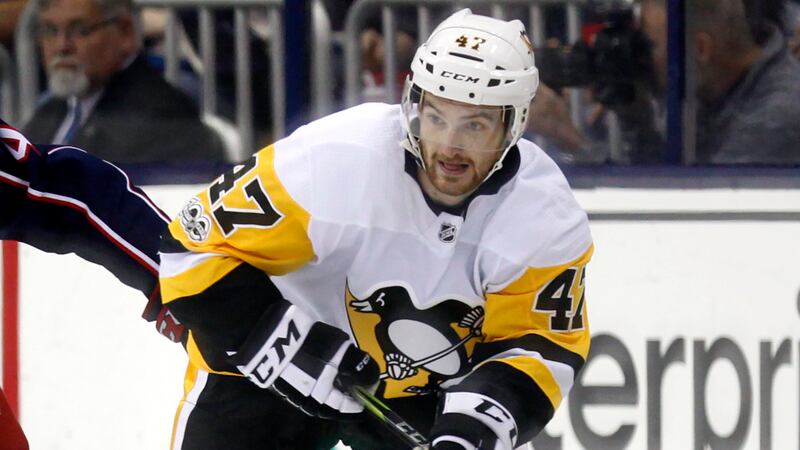 Published: Nov. 15, 2023 at 6:34 AM EST
|
Updated: Nov. 15, 2023 at 11:08 AM EST
LONDON (AP) — A man who was arrested on suspicion of manslaughter in the death of American ice hockey player Adam Johnson, whose neck was cut by a skate during a game, was released on bail Wednesday.
Johnson, 29, was playing for the Nottingham Panthers against the Sheffield Steelers on Oct. 28 when he was struck by an opponent's skate blade in the Elite Ice Hockey League game at Sheffield's home arena in central England.
A post-mortem examination confirmed he died as a result of a fatal neck injury, police said.
South Yorkshire Police did not name the suspect or provide his age. He was arrested on Tuesday, and released on bail on Wednesday pending further inquiries.
Matt Petgrave, 31, who plays for Sheffield, was the other player involved in the grisly incident that reverberated around the hockey community and led to moments of silence in the NHL.
Video of the incident shows Johnson skating with the puck toward the Steelers net. Petgrave skates toward Johnson and collides with another Panthers player. Petgrave's left skate kicks up as he begins to fall and the blade hits Johnson in the neck.
Both players land on the ice. Petgrave immediately got to his feet. Johnson rose more slowly and as he is helped off the ice, his jersey covered in blood. He later died at a local hospital.
"Our investigation launched immediately following this tragedy and we have been carrying out extensive inquiries ever since to piece together the events which led to the loss of Adam in these unprecedented circumstances," Detective Chief Superintendent Becs Horsfall said.
Stephen Halloran, a criminal defense solicitor and managing director at Lawtons Solicitors in London, said manslaughter investigations are "not straightforward" and can be committed in several different ways in England and Wales. They can range from an offense that is not far from being an accident through to one that falls just short of murder.
He said that in this case police are potentially looking at involuntary manslaughter.
Halloran said that involuntary or unlawful act manslaughter is "when an unlawful killing has taken place but there was no intention to kill or to cause grievous bodily harm."
In the case of voluntary manslaughter, all the elements for murder are present, including an intention to kill or cause serious harm, but the crime has been reduced to manslaughter by reason of loss of control or diminished responsibility due to a recognized mental condition.
It would be rare, but not unprecedented, for a hockey player to be charged.
Giacinto "Jim" Boni was charged in Italy with culpable homicide after he slashed Miran Schrott in the chest during a game on Jan. 14, 1992, and Schrott died as a result of a cardiac event. Boni pleaded guilty to manslaughter.
Two NHL players in recent history have been charged with a crime in Canada for an on-ice action: Marty McSorley and Todd Bertuzzi.
In 2000, McSorley was found guilty of assault with a deadly weapon for a two-handed slash to the head of Donald Brashear with his stick. He was sentenced to 18 months probation.
In 2004, Bertuzzi pleaded guilty to assault for grabbing Steve Moore from behind and sucker punching him. Bertuzzi agreed to a plea deal and was sentenced to one year probation and 80 hours of community service.
The Panthers said in a statement on social media that Johnson died tragically following a "freak accident."
Nottingham teammate Westin Michaud, who posted tributes to Johnson, also defended Petgrave for what he said was an "unintentional clip" with the other player that uprighted him.
"The hate that Matt is receiving is terrible and completely uncalled for," Michaud posted. "It's clear to me his actions were unintentional and anyone suggesting otherwise is mistaken. Let's come together and not spread unwarranted hate to someone who needs our support."
Petgrave's agent, Casey Kesselring, said he had no comment on the situation.
On Sunday, at the Steelers first home game since Johnson's death, a moment of silence was held for him. Petgrave didn't play in the game, but fans gave him a standing ovation when his team photo appeared on the scoreboard.
Johnson was a Minnesota native who appeared in a total of 13 NHL games with the Pittsburgh Penguins in the 2018-19 and 2019-20 seasons.
The English Ice Hockey Association, which governs the sport below the Elite League, reacted to Johnson's death by requiring all players in England to wear neck guards from the start of 2024.
A spokesman for the EIHL said the league cannot comment on an ongoing police investigation. A Nottingham Panthers spokesman said the organization had no comment. Messages seeking comment sent to Johnson's agent, a friend of the family, and the Sheffield Steelers were not immediately returned.
NHL VP of hockey operations Rod Pasma addressed general managers at their annual November meeting in Toronto on the matter of cut-proof equipment. Pasma said players have far more options than a decade ago, including 10 or more choices for wrist, body and Achilles tendon/foot protection.
"In the neck, we're getting there," Pasma said. "We (did not have) many a month ago, but as it sits today, I think there's up to eight companies on my desk waiting to be cleared, and of those eight there's probably 12-14 options to wear, should they choose."
The league's chief medical officer, Dr. Willem Meeuwisse, said team doctors and trainers took part in a big education session on major lacerations in the spring.
"We're always tweaking and reviewing that kind of policy and procedure, equipment, personnel so we're as prepared as possible to deal with a catastrophic injury," Meeuwisse said. "We're looking at, always, what could happen and how to prepare to deal with it best, and hopefully we don't have the kind of bad outcome that happened a few weeks ago."
___
Pan Pylas in London, AP Hockey Writer Stephen Whyno in Washington and the Canadian Press contributed.
___
AP sports: https://apnews.com/sports
Copyright 2023 The Associated Press. All rights reserved.