Haitian gang leader added to FBI's Ten Most Wanted list for kidnapping, killing Americans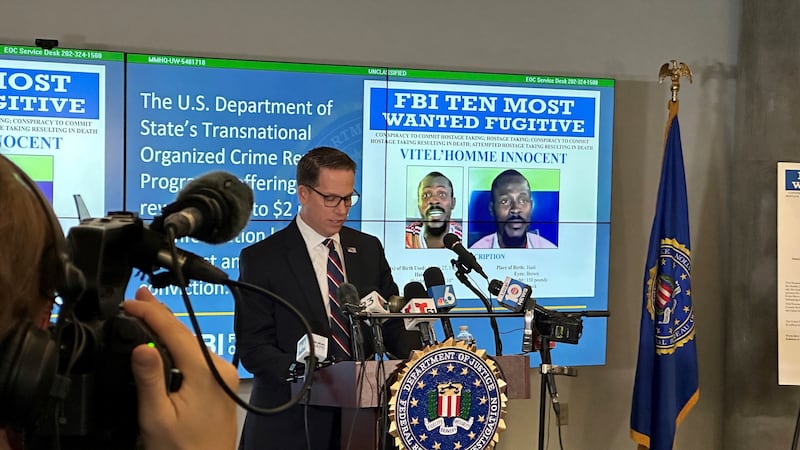 Published: Nov. 15, 2023 at 5:55 PM EST
MIRAMAR, Fla. (AP) — The FBI added a Haitian gang leader to its Ten Most Wanted Fugitives list on Wednesday for the kidnapping and slaying of American missionaries in that country, but conceded capturing him will be a difficult task in the often lawless nation.
In conjunction with the announcement, the U.S. State Department said it will pay up to $2 million for information leading to the arrest of Vitel'Homme Innocent, who is known by his first name only. He has already been indicted in the United States for the armed kidnapping of 16 Christian missionaries in 2021 and the slaying of missionary Marie Franklin and kidnapping of her husband, Jean, in 2022.
Most of the first group from Christian Aid Ministries, which included five children, escaped after 61 days in captivity and the others were released. Jean Franklin was released after three weeks when his family paid a ransom.
The FBI says Vitel'Homme leads the Kraze Bayre gang and worked in concert with the 400 Mawozo gang in the abductions. The agency believes he is still in Haiti and would face a possible death sentence in the U.S. if he were ever captured and convicted of Franklin's murder.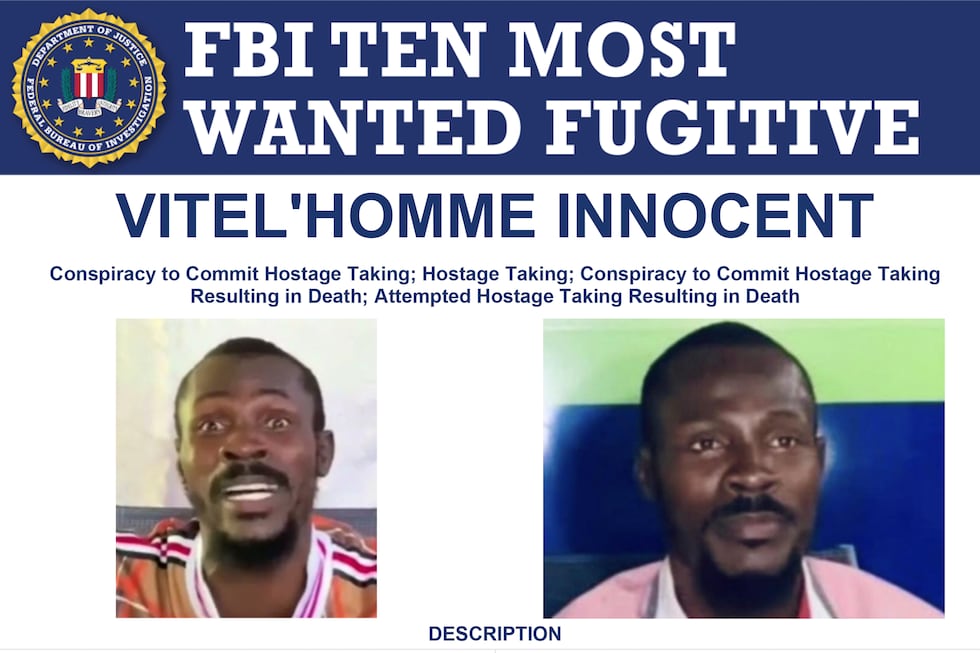 "He is a menace to the island and he is clearly a menace to American citizens," Jeffrey B. Veltri, special agent in charge of the FBI's Miami office, said during a news conference.
Veltri conceded that even if authorities had information about Vitel'Homme's whereabouts, capturing him would be difficult given the chaos in Haiti. Just Wednesday, a heavily armed gang burst into a hospital and took hundreds of women, children and newborns hostage.
The country's gangs have grown more powerful than the government since the 2021 assassination of President Jovenel Moïse and have bigger and better weapons than the police. Gang leaders continue operating with impunity, brushing off previous U.N. sanctions and criminal charges filed by U.S. federal authorities.
In early October, the U.N. Security Council voted to send a multinational force led by Kenya to help fight the gangs, but that country's leaders are now balking. They say Kenya's personnel need more training and funding, and they have not announced a deployment date.
Veltri said if Vitel'Homme is located, "we will work with our international partners, but it is an ongoing process. ... Haiti presents unique challenges."
Copyright 2023 The Associated Press. All rights reserved.