Escapee's capture in Augusta leaves mark on neighborhood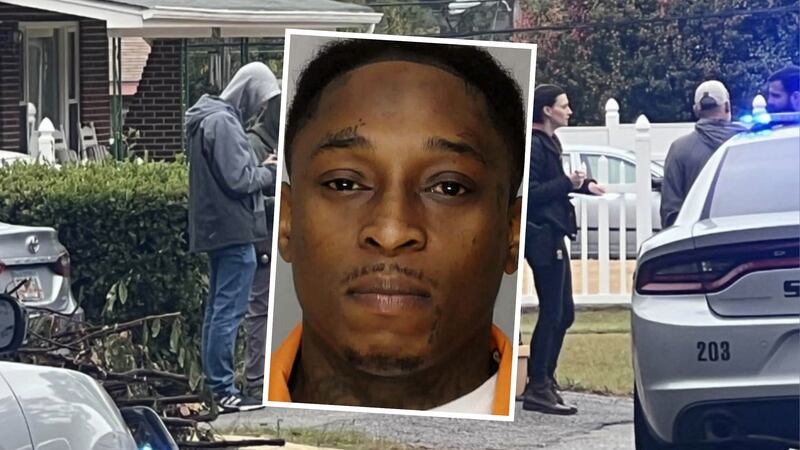 Published: Nov. 12, 2023 at 11:29 AM EST
|
Updated: Nov. 13, 2023 at 11:09 AM EST
AUGUSTA, Ga. (WRDW/WAGT) - An escapee is back in Bibb County after being captured over the weekend in a raid that shook an Augusta neighborhood and shocked neighbors.
Just after 8 a.m. Sunday at a home in the 3000 block of Alpine Road in Augusta, authorities captured 37-year-old Johnifer Dernard Barnwell.
His capture was the third out of four inmates who escaped from the Bibb County Detention Center on Oct. 16.
Thomas Granat lives right next door to the house that was searched.
"So about 7:45 a.m. I was about to get up to go to church this morning when all of a sudden I heard 'FBI. Open up.' And so I immediately jumped up and thought: What did I do?" he said.
Granat continued, "I looked out the window and there were FBI cars lining the street blocking my car, my driveway, I looked over and there was an armored truck, guns drawn at the house next to me. And so there was an FBI raid at the house right next to me."
Deputies from multiple agencies thoroughly searched through the home, some with masks on.
By Monday morning, Barnwell had been transferred back to Bibb County, according to authorities there who released a photo of him in handcuffs and shackles.
When Barnwell was captured, large amounts of drugs were found inside the house, according to authorities.
The GBI and Burke County Sheriff's Office were also involved in the search of the home.
FBI Atlanta Public Affairs tells us suspected meth, fentanyl, heroin and cocaine were in the house but all will need to be lab tested for official results.
The FBI says no one else was at the house when Barnwell was arrested.
Reflecting on the raid, Granat, said, "At first, it was a little scary."
He says it's a quiet neighborhood.
"We've never seen much traffic much outside of just families walking in the street with their dogs," he said. "And now it's FBI raid – police officers."
He says he never noticed any suspicious activity at the house where the escaped inmate was hiding.
"It's a rental property. And I knew the previous owner moved out a few months ago, and I thought they were doing some yard work, possibly," he said. "I didn't think anyone lived in there. So obviously, someone was in there whether it was legal or not."
Neighbors wondering what happened.
"Everyone tried to keep their keep their heads poked out the door all day, you could look down the street and see people standing at the door," continued Granat.
Granat just says he's glad everyone is OK.
"I mean, you never want to think it'll happen to you or near you. But luckily, we do have a good law enforcement," he said. "And they were obviously working on this guy for a while and they found them and they removed them."
On Oct. 26, Chavis Demaryo Stokes, 29, was arrested at a home in Montezuma, about 50 miles from the jail. Fellow escapee Marc Kerry Anderson was found at the Huntley Apartments located at 1000 Park Drive in Atlanta just before 3 p.m. Nov. 3.
Of the four inmates, the FBI says only one remains on the run, 52-year-old Joey Fournier.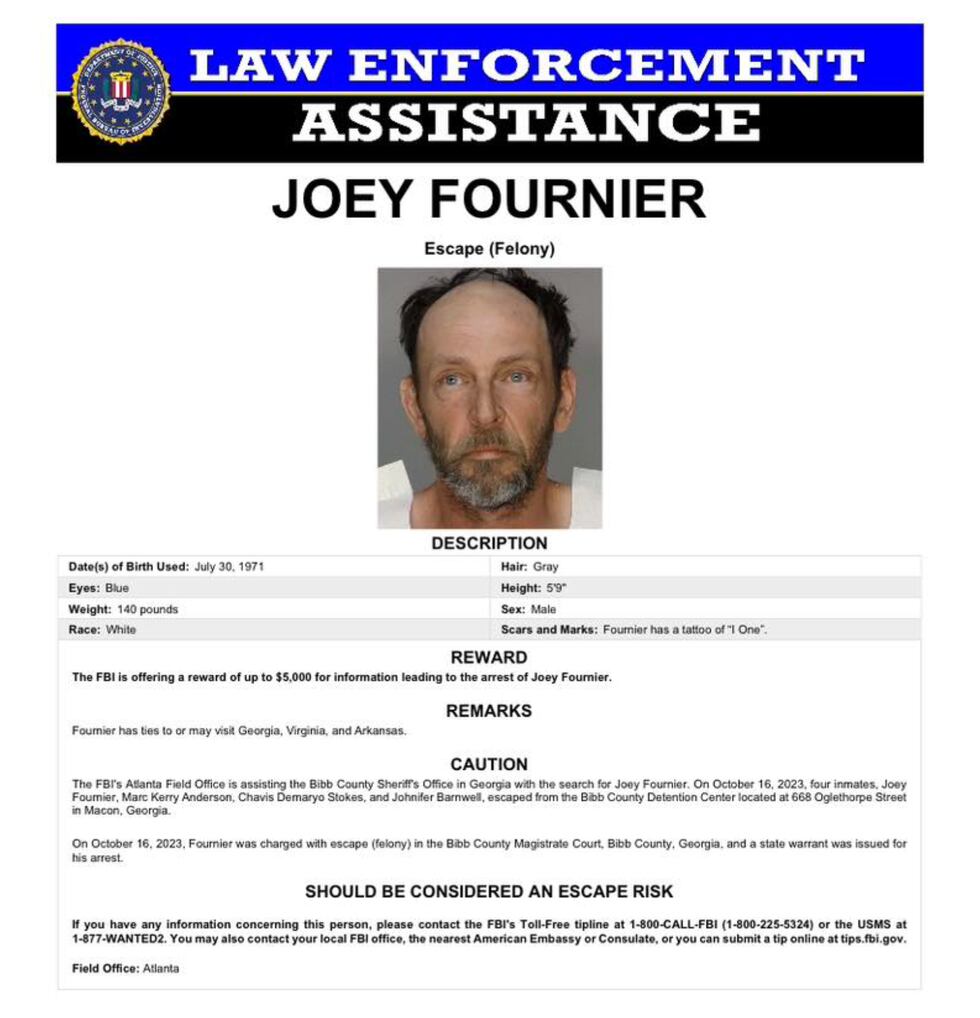 If you know where he is, you're asked to call the FBI's tip line at 1-800-255-5324 or online at tips.fbi.gov.
We'll continue to keep you updated as we work to learn more about this case.
Copyright 2023 WRDW/WAGT. All rights reserved.