Veterans Day Weekend events in South Georgia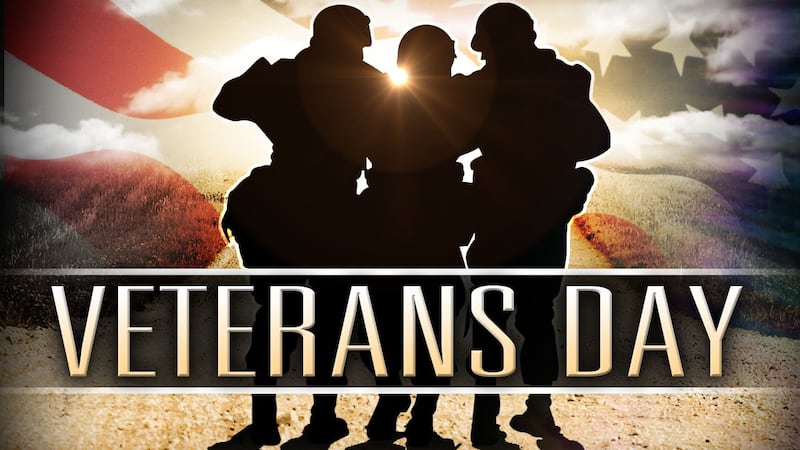 Published: Nov. 8, 2023 at 9:31 PM EST
|
Updated: Nov. 11, 2023 at 1:09 PM EST
ALBANY, Ga. (WALB) - In honor of our veterans who have served in all branches of the U.S. military, WALB News 10 thanks you for your service. Many in South Georgia are also thanking veterans by hosting events throughout the weekend.
Here are some of those events:
Coffee County
Douglas will offer events honoring veterans throughout the weekend starting with school events and a parade on Friday, Nov. 10. Click here for full details.
Decatur County
Bainbridge will be hosting a special ceremony and wreath presentation for veterans on Friday, Nov. 10 at 10:00 a.m. in Willis Park. Click here for the full details.
Dougherty County
Albany Technical College will be hosting Sergeant Major Chad M. Coston of the Marine Corps who will give a speech on Nov.8, 2023, at 10:00 a.m. at the Kirkland Conference Center. Click here for details.
Albany Young Marines will be hosting a local Veterans Day Celebration on Saturday, Nov. 11 at Veteran's Park Amphitheater at noon. Click here for full details.
Worth County
The American Legion Sylvester Post 335 will be hosting its first annual Veterans Parade in Downtown Sylvester on Nov. 10 at 6 p.m. Click here for full details.
WALB will continue to update this list through the week and weekend.
Copyright 2023 WALB. All rights reserved.