CPR and AED training encouraged during Sudden Cardiac Awareness Month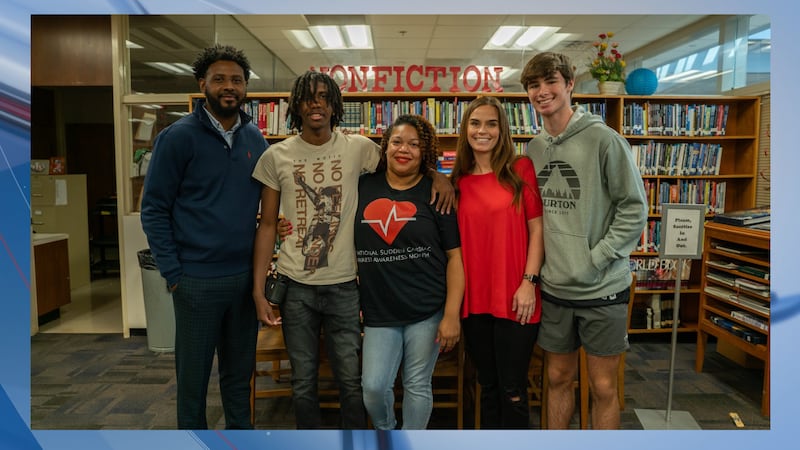 Published: Oct. 27, 2023 at 4:13 PM EDT
ALBANY, Ga. (WALB) - When James Fudge recently celebrated his 17th birthday, he had a new appreciation of just how precious life is and how fragile it can be. "I feel grateful," the soft-spoken Westover High School junior said as he calmly recounted the day just two weeks before his birthday, when he nearly died.
On a Saturday morning in late August, James was playing in a fall league basketball game at Lee County High School when he suddenly collapsed on the court. "All I remember is we were on defense, and we ended up getting the ball back. I started feeling light-headed, and the next thing I know, I blacked out," he said.
As always, James's mother, Andrea Byrd, was in the stands cheering him on. She had briefly taken her eyes off her son, and when she looked back to see him lying on the court, she assumed he tripped running down the court or fell while going for a rebound. "But then I noticed that he was too still, so something told me to just get up. So, I ran out, and it was hard to see him like that," Andrea said.
As some of her friends pulled Andrea away from James, others in the stands rushed to help him, including Randi Hendley, a respiratory therapist at Phoebe Worth Medical Center in Sylvester whose son happened to be playing in the game for the opposing team. "When I got to him, I thought maybe he was having a seizure," she said, but she quickly realized the problem was something even more life-threatening. "I said, 'he doesn't have a pulse,' and I started chest compressions. Somebody yelled, 'AED,' and I yelled it right after they did to make sure everybody heard," Randi said.
One of the other people who ran to help was Terrance Noel, an assistant coach for James's basketball team at Westover. "She said, 'I'm going to start chest compressions, is anybody comfortable giving breaths,' and I said, 'most certainly,'" Terrance recalled.
He had recently gone through annual CPR (cardiopulmonary resuscitation) and AED (automated external defibrillator) training, provided by Phoebe's Network of Trust, that is mandatory for all coaches in the Dougherty County School System. "From a coach's standpoint, I just think we need to take those classes very, very seriously because you never know when it's going to happen to one of your kids," he said.
For probably 4-5 minutes, as they waited for someone to return with an AED, Randi, Terrance and Traci Blue – a nurse who was also in the crowd that day – continued to perform CPR as groups of people throughout the gym prayed. "It seemed like forever," Terrance said. "At one point, somebody ran up with the AED. They opened the buttons and got the pads on," Randi said. "It starts telling you what to do. It's very user-friendly. "The AED does not shock you unless it really feels the need to, so it was crazy hearing it say, 'back away. Shock advised,'" Terrance said.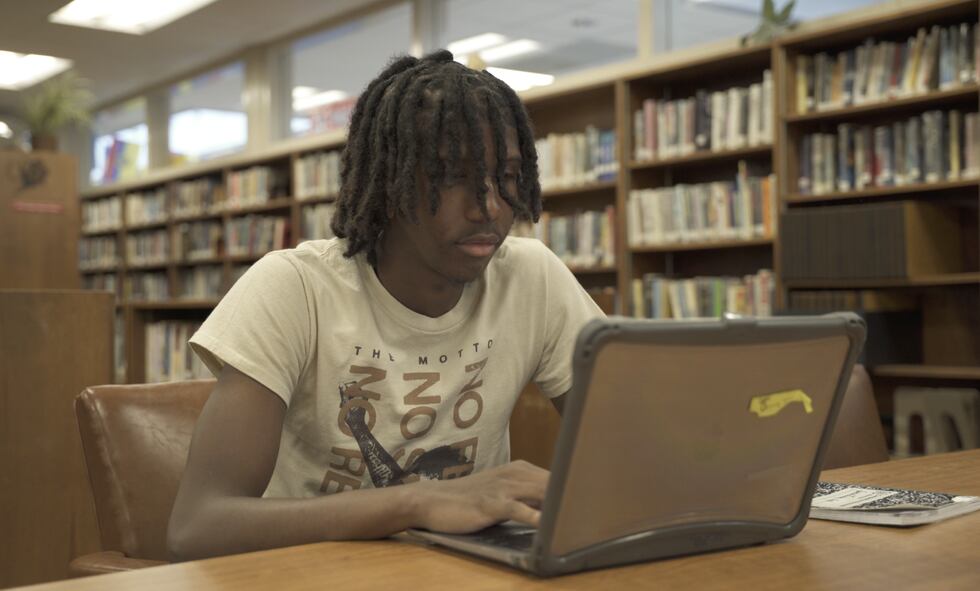 Dr. Brad Harris, an oral surgeon who was also part of the group that ran on the court to help, administered the shock. The AED did its job, instantly restarting James's heart. "Once it shocked him, he kind of tightened up, and then there was that moment when he hopped up," Terrance said.
"I really didn't know what was going on," James said. "I really can't remember too much. I was blacking in and out. I remember people on me, and the next minute, I'm on the stretcher in the ambulance, and the next thing you know I was in Phoebe."
The emergency team at Phoebe stabilized James before he was flown to Children's Healthcare of Atlanta – Egleston Hospital where pediatric cardiologists confirmed James had suffered sudden cardiac arrest, likely caused by a previous viral infection that led to inflammation of his heart. Sudden cardiac arrest is different from a heart attack. A heart attack happens when blood flow to part of the heart is blocked. Sudden cardiac arrest is the sudden loss of all heart activity due to an irregular heart rhythm. Without immediate treatment, it often leads to death. "Doing something is better than doing nothing," Randi said. "Even if you're not trained in CPR, some compressions are better than no compressions."
"You can't be shy in the moment," Terrance added. "Every second really matters." "I'm so thankful for the people that were there. I'm so glad they were CPR-trained and AED-trained and that there was an AED there," Andrea said. "They saved his life. The doctors told me the amount of time he was out, he could've had brain damage if the CPR wasn't really good, but he was fine," she added. The experience in the gym that day changed all of them and spurred them to action. James's mom joined a sudden cardiac arrest survivor's group. She vows to wear red throughout every October in recognition of Sudden Cardiac Awareness Month, and she has become a vocal advocate for awareness and training. "Get AED trained. Learn CPR. Just learn how to respond because it's people like that who save a life," she said.
Randi decided to get certified as a basic life support instructor, so she can teach people in Sylvester how to provide lifesaving care. "I know I have to do it. I have a reason to push it. A lot of people will know about this story, and maybe they'll say, 'I need to get this training,'" Randi said.
Terrance now finds himself looking for an AED every time he walks into a building. He's pushing the Dougherty County School System to place additional AEDs around their schools, and he's telling other coaches how important their mandatory training sessions are. "Just be prepared for anything because you never know. If we would have lost James, I don't think I would have been able to continue coaching," he said. "I was thankful I didn't have to go there mentally."
James is thankful the right people were in the right place that Saturday morning and didn't hesitate to jump into action. "I'm glad they were able to help me. I'm thankful for everybody who was able to give me support and love and were able to help me to fight and to keep on living," he said.
At least for a few more weeks, James is wearing a LifeVest. It's a miniature AED that he's only allowed to remove when he takes a shower. If his heart were to stop again, it would immediately give him another lifesaving jolt. But he and his mom are optimistic that won't happen. He's hoping at his next checkup, the doctors will clear him to start returning to more normal activities, and he can't wait for the day he can play basketball again.
"Some people might say, 'oh, you're gonna be nervous to get back on the court,' but not really," he said. "I'm gonna be happy."
James celebrated that recent birthday on September 10, enjoying tacos and birthday cake with friends and family. There were a few extra guests, too. Terrance was there, so was Randi and her family, along with Traci and Dr. Harris. "I needed to see him," Randi said. "I feel like they're part of our family now."
James said, "It's really nice to have people like them in my life." A life saved by people who weren't afraid to put their training into action when it mattered most. A life with many more birthdays still to celebrate.
Copyright 2023 WALB. All rights reserved.