Special session called after federal judge tosses Georgia voting maps
Lawmakers have until Dec. 8 to draw new lines | Thousands of metro voters could be drawn into new congressional, legislative districts.
Published: Oct. 26, 2023 at 12:29 PM EDT
|
Updated: Oct. 26, 2023 at 4:32 PM EDT
ATLANTA, Ga. (Atlanta News First) - A federal judge has ruled Georgia's legislative and congressional voting maps violate the Voting Rights Act of 1965, and has set a deadline of Dec. 8 for state lawmakers to draw new ones.
Gov. Brian Kemp has called a special legislative session to begin on Nov. 29.
The ruling was issued Thursday by U.S. District Court Judge Steve Jones out of the Northern District of Georgia.
"The Court reiterates that Georgia has made great strides since 1965 towards equality in voting," Jones wrote. "However, the evidence before this Court shows that Georgia has not reached the point where the political process has equal openness and equal opportunity for everyone.
Accordingly, the Court issues this Order to ensure that Georgia continues to move toward equal openness and equal opportunity for everyone to participate in the electoral system."
Jones also ordered lawmakers to draw two new Black-majority districts in the state Senate and five new Black-majority districts in the state House.
The GOP-led Georgia General Assembly approved the maps in late 2021. The maps were drawn to make one metro Atlanta district more friendly to the GOP while leaving another solidly in Democratic hands. Georgia's U.S. House delegation currently consists of eight Republicans and six Democrats.
Legislators were in a special session for weeks at that time, redrawing legislative and congressional boundaries to accommodate changes in population reflected in the 2020 U.S. Census.
"This has been a long time coming," said Stephanie Ali, policy director with the New Georgia Project. "This is going to give an opportunity to kind of revitalize people's opportunities to feel connected to their vote, to feel like their vote matters, and to hopefully represent people that they truly believe in, instead of just whose running."
"In this case Black Georgians were not able to elect candidates of their choice because of the way the maps were drawn," said attorney Caitlin May with the American Civil Liberties Union, a plaintiff in the case. "We're very happy, we're ecstatic that the maps are going to more fairly represent our state."
The maps added more white voters to the 6th Congressional District by extending it north through all of Forsyth and Dawson counties and eastern Cherokee County. As a result, the 6th District's white voting-age population increased to 66.63%.
The Republican map also made southwest Georgia's 2nd congressional district long held by Democrat Sanford Bishop more competitive by slightly lowering its Black voting-age population and raising its white voting age population.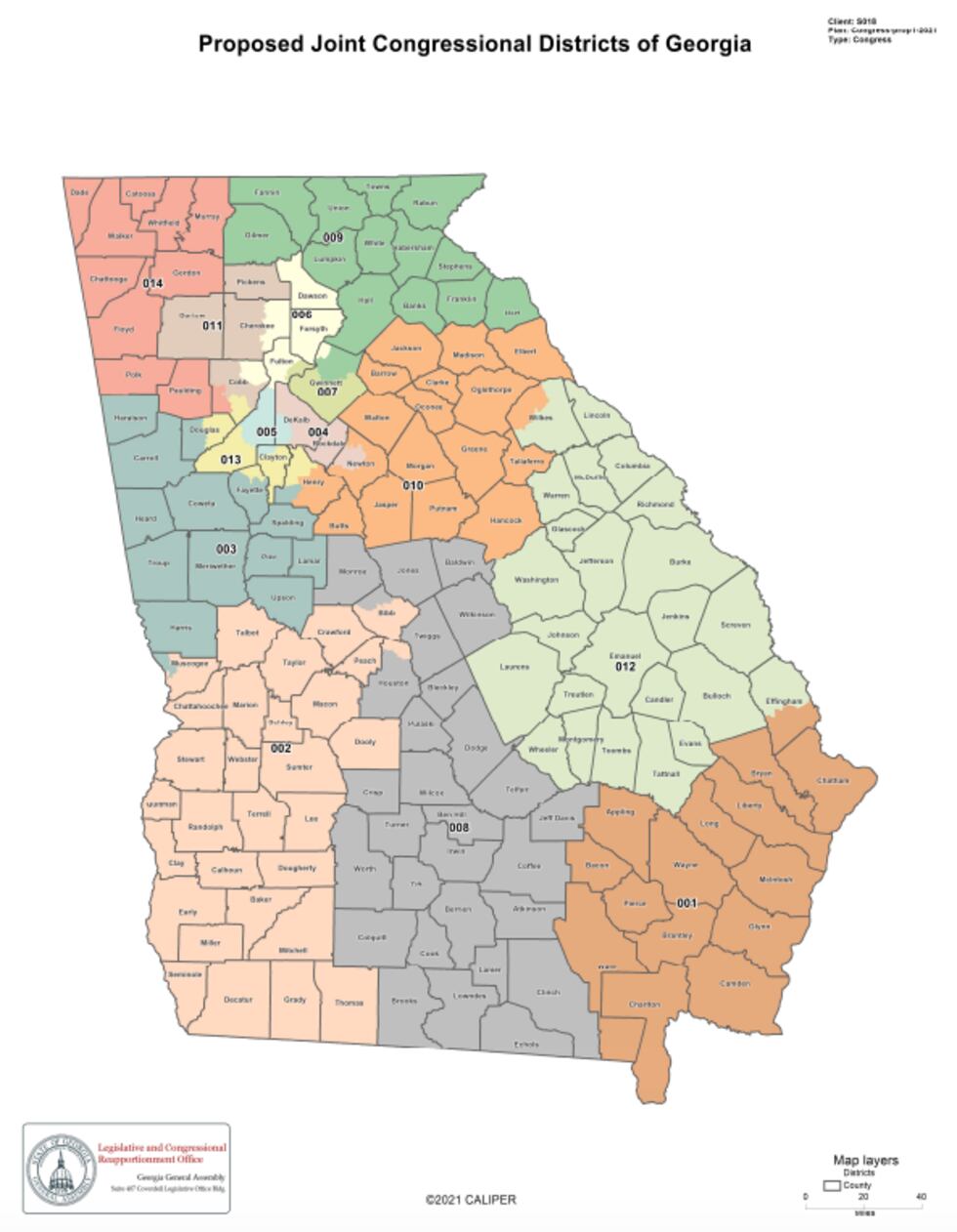 "After conducting a thorough and sifting review of the evidence in this case, the Court finds that the State of Georgia violated the Voting Rights Act when it enacted its congressional and legislative maps," Jones wrote. "The Court commends Georgia for the great strides that it has made to increase the political opportunities of Black voters in the 58 years since the passage of the Voting Rights Act of 1965. Despite these great gains, the Court determines that in certain areas of the State, the political process is not equally open to Black voters."
One of the plaintiffs in the case, Bishop Reginald T. Jackson of the Sixth Episcopal District of the African Methodist Episcopal Church, said, "today's decision reaffirms what so many of us already knew, that extremists in our own Legislature did indeed illegally map out the congressional and legislative districts to weaken the vote of Georgia's Black voters.
"Together, the people of Georgia and our justice system have now demanded that those in power must right these wrongs and I sincerely hope that the process of now redrawing Georgia's districts is done swiftly, thoroughly, and complies with the letter of the law."
Former Georgia U.S. senator Kelly Loeffler, now head of Greater Georgia, said progressives' new campaign strategy is "lawfare.
"Today's ruling by the Obama-appointed U.S. District Court judge is a disappointing but unsurprising victory for liberal activists attempting to interfere in next year's elections," Loeffler said. "Greater Georgia expects a successful appeal and that partisan efforts to undermine our state's legislative and congressional races ahead of 2024 will be dismissed."
Georgia's case, according to the Associated Press, is part of a wave of litigation after the U.S. Supreme Court earlier this year stood behind its interpretation of the Voting Rights Act, rejecting a challenge to the law by Alabama.
Courts in Alabama and Florida ruled recently that Republican-led legislatures had unfairly diluted the voting power of Black residents. Legal challenges to congressional districts are also ongoing in Arkansas, Kentucky, Louisiana, New Mexico, South Carolina, Tennessee, Texas and Utah.
Jones wrote that he conducted a "thorough and sifting review" of the evidence in the case before concluding that Georgia violated the Voting Rights Act in enacting the current congressional and legislative maps.
He wrote that he "commends Georgia for the great strides that it has made to increase the political opportunities of Black voters in the 58 years" since that law was passed in 1965. But despite those gains, he determined that "in certain areas of the State, the political process is not equally open to Black voters."
But Jones noted that despite the fact that all of the state's population growth over the last decade was attributable to the minority population, the number of congressional and legislative districts with a Black majority remained the same.
That echoes a key contention of the plaintiffs, who argued repeatedly that the state added nearly 500,000 Black residents between 2010 and 2020 but drew no new Black-majority state Senate districts and only two additional Black-majority state House districts. They also said Georgia should have another Black majority congressional distric
U.S. Rep. Lucy McBath, a Democrat representing the 7th congressional district and who was forced to run against another Democrat, Carolyn Bourdeaux, to retain her seat in 2022, applauded the ruling.
Georgia Democratic U.S. Sen. Raphael Warnock said, "Every eligible American deserves to have their voices heard in our shared direction. This is great news for Georgia and for voting rights across our country. This ruling gives the people their voices back. We must never let up in the fight to secure our democracy."
Also praising the ruling was the Georgia Redistricting Alliance.
"Today's ruling is a win for not just Georgia but for the integrity of voting rights protections that advocates have fought to protect for decades," the organization said. "In 2021, we and several advocates voiced concerns about the fairness of Georgia's congressional maps. Despite being positioned as fair, the 2021 redistricting process lacked transparency and equal input from voters of color, resulting in finalized maps that dilute the power of communities of color - particularly Black communities - across the state."
"This ruling is a victory for Black voters in Georgia, and for anyone who believes voting should be fair," said Sophia Lin Lakin, director of the American Civil Liberties Union voting rights project. "This decision confirms that Black voters were illegally shut out of political opportunities in the state."
Atlanta News First and Atlanta News First+ provide you with the latest news, headlines and insights as Georgia continues its role at the forefront of the nation's political scene. Download our Atlanta News First app for the latest political news and information.
Copyright 2023 WANF. All rights reserved.