Is Albany Safe? Perception vs reality in downtown Albany
Published: Oct. 25, 2023 at 6:23 PM EDT
ALBANY, Ga. (WALB) - WALB is continuing its investigative series that asks the question Is Albany Safe?
The question is asked for several reasons. The population of Dougherty County is falling — meaning fewer people are investing, paying property taxes and supporting the schools here. Companies struggle to recruit people to move their families here — possibly because of the perception that Albany isn't safe. But is it the truth?
Downtown Albany is a place where the Flint River flows through Front Street, where history is marked and where kids can be kids. However, Albany police say empty buildings, little lighting and a homeless population lead to a perception that the area is unsafe.
According to the Albany Police Department crime data that dates back to 2018 up until October of 2023, non-violent crimes in the area outweigh violent crimes. The most recent high-profile violent crime downtown happened near the police station in 2022. It was a targeted shooting on Jackson Street and Broad Avenue from one car into another.
Over the past six years, there have been 35 violent crimes reported in the downtown area. That's just one every two months.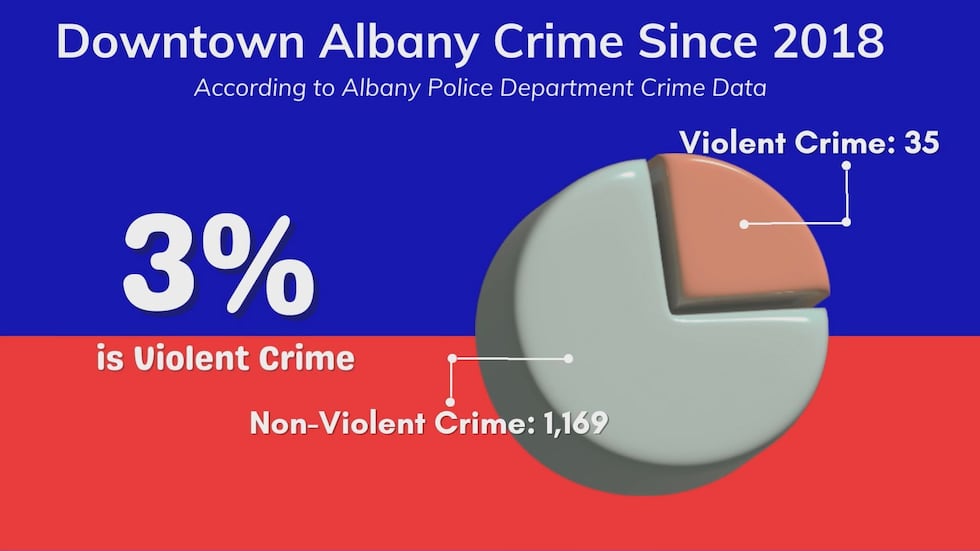 There have been 1,169 non-violent crimes downtown. Almost half are traffic offenses. Those numbers are far lower than in other parts of town. Albany Police Chief Michael Persley says his officers patrol downtown as much as staffing allows.
"Even with our downtown cameras, and us putting in the real-time crime center to where I want to make sure we have visibility throughout the city," Persley said. "So, what I do know, regardless of how many cameras I have downtown, even how many projects we have going to where it diverts people, people will still want to see some kind of presence. So yeah, we are committed to doing that, but that's staffing."
Like other places that hire, the Albany Police Department has recruiting challenges. They currently have 50 entry-level openings. But safety is as much about feeling as it is fact. WALB's Investigative reporter Lenah Allen asked people who go downtown if they feel safe there.
"I go by the mud puddle, all up through thereby Rainbow Records, and then I go all back over in here. I've never had an issue," said Oliver Morton, an Albany resident.
Albany resident and mom, Sarah Kornegoy, said she rarely comes to downtown Albany without her husband. But she does occasionally bring her kids to play in Turtle Park.
"You do see homelessness and whatnot, especially with the kids you're like aware of that. I have had times when I've been on the playground and there are suspicious-looking people and you're wondering, are they suspicious? Like why are they hanging out on this kid's playground without their kids? Stuff like that," Kornegoy said.
WALB also took to Facebook to ask you the same question, is downtown Albany safe? There were a range of answers.
Optics often play a part in perception. Many downtown storefronts are empty, some buildings are blighted. Those things contribute to less downtown foot traffic.
"When you feel like there's more to be seen, I feel like people are less likely to commit crimes when there are people around," Kornegoy said.
WALB also launched a poll asking what improved downtown safety measures residents would want to see more of – more lighting, more police patrols and police call boxes. A total of 78% of people voted for more police patrolling. Persley said there are plans for more safety projects in the area.
"For expanding out in the future, yeah, we've talked about the call boxes along the trail, but specifically down in the Turtle Park and River Park, there's nothing there, and we really rely upon the citizens calling that in," he said.
Even with plans for more safety precautions in the future, that may not be enough to alter perceptions. The overall feeling in Albany is Downtown Albany has a ways to go.
Copyright 2023 WALB. All rights reserved.