Looking Up at the October 2023 sky: An annular solar eclipse and more
A few astronomical events will surely bring a treat during October.
Published: Oct. 13, 2023 at 1:41 PM EDT
ALBANY, Ga. (WALB) - On Saturday, October 14, an annular solar eclipse will yield a partial eclipse across most of the lower 48, including South Georgia. We will only be able to observe around 56% of the sun being eclipsed.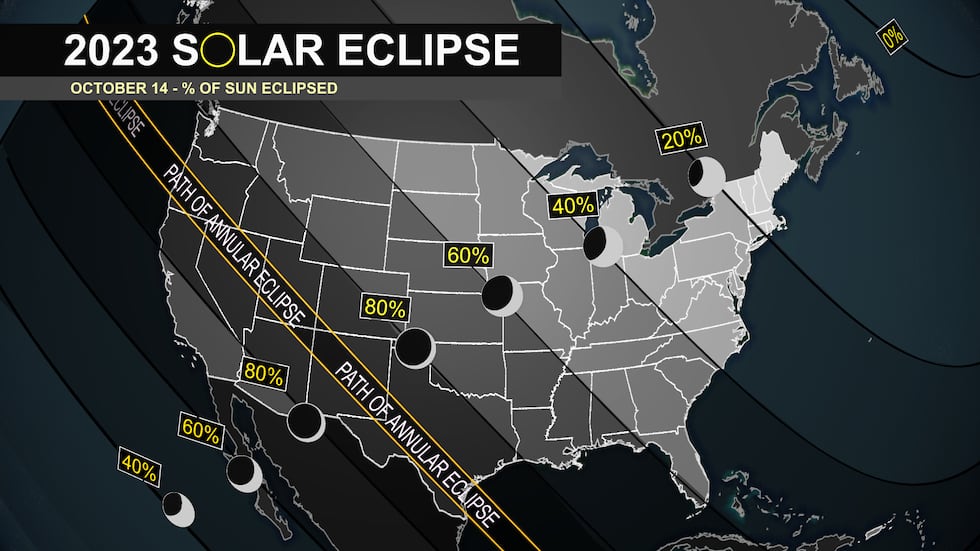 What is the timing? The crescent-shaped partial eclipse will begin at 11:44 a.m. peaking at its maximum at 1:15 p.m. and ends at 2:50 p.m.
Here are a few do's and don'ts for viewing this partial solar eclipse: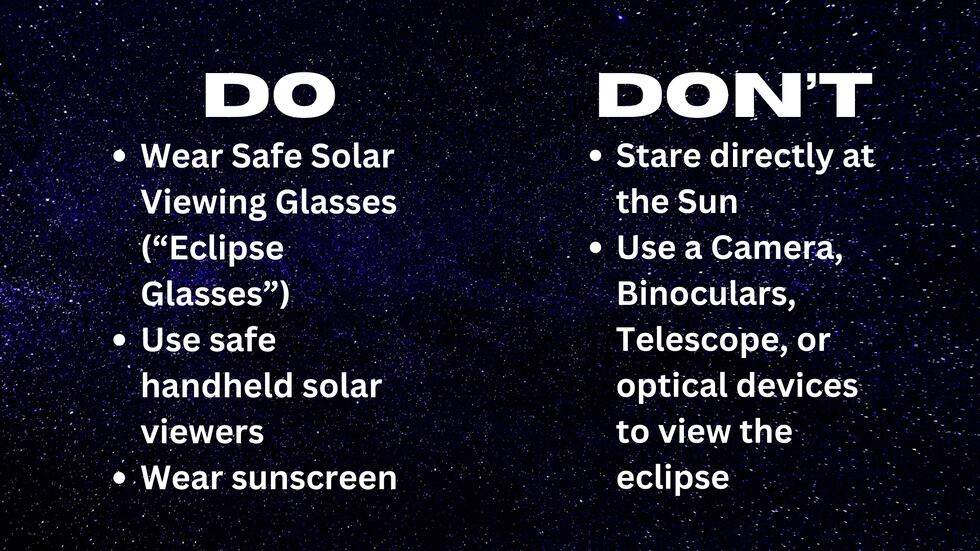 It is really important that you NEVER view the eclipse without the proper eclipse glasses or equipment. Sunglasses do not work as eclipse glasses! These same rules apply to cameras and phones because the lens of your camera, the lens of your phone, or the lens of your eye will concentrate the sunlight and can cause damage to each of them.
If you did not get the chance to purchase your eclipse glasses, then there is an alternative: you can create a solar viewer. Instructions to create the solar viewer include the following items: a shoe box, paper, scissors, a pen/pencil, a piece of aluminum foil and tape.
How to make the solar viewer:
Cut out two small holes on the side of your shoe box.

Add a few pieces of tape to the piece of aluminum foil that you cut, then attach it to the box and cover one of the holes.

Take a pencil and poke a small hole into the foil.

Add the tape to the paper and attach it to the inside of the box on the backside.

Place the lid on top of your box.
How to use: Have your back to the sun and look through the open hole. The light from the sun will pass through the hole and the foil to the back of the box during the eclipse. This will allow you to safely watch the event.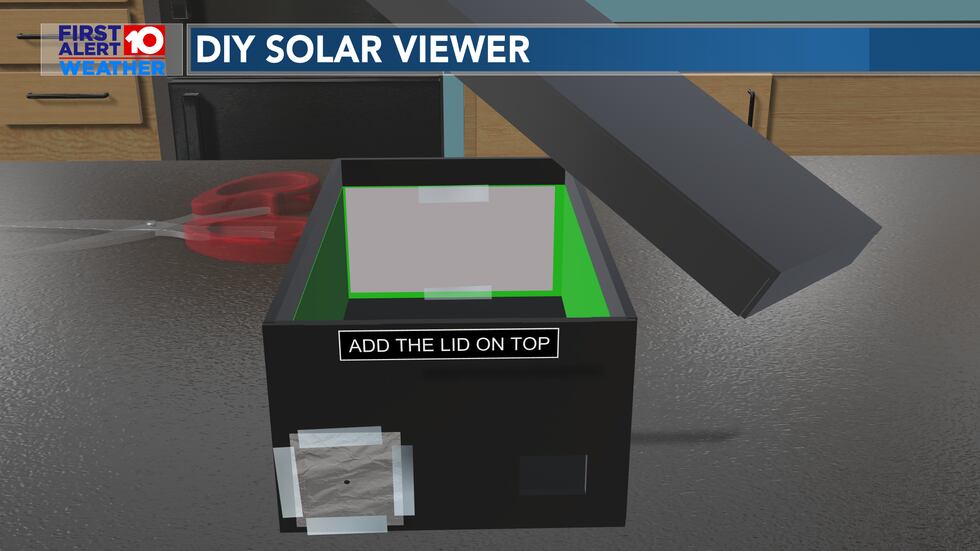 Do not worry if you miss this event because another partial eclipse is expected for our area on April 8, 2024. However, if you would like to see a total eclipse close to home in South Georgia, it might be a while. The next total solar eclipse will be on August 12, 2045. That's basically an entire generation away!
Lastly, the Orionid meteor shower will happen later this month on October 21-22, where you can see the meteor shower happening around midnight and before dawn. This event will occur under a dark sky with a new moon and should allow the Ornoids to exhibit a maximum of about 10-20 meteors per hour. You want to look in the southwest sky and slightly north of the constellation of Orion to view this event. Happy viewing!
Copyright 2023 WALB. All rights reserved.