1993 Colquitt Co. rape case dismissed
Man, who served 20 years, stands on his innocence
Published: Oct. 3, 2023 at 12:58 PM EDT
|
Updated: Oct. 5, 2023 at 12:03 AM EDT
MOULTRIE, Ga. (WALB) - The case against the man who was convicted in the 1993 Colquitt County rape case has been dismissed, according to the Southern Judicial Circuit.
Sedrick Moore, who was 17 years old at the time, was one of three men found guilty of armed robbery, burglary, rape and several counts of possession of a firearm during the commission of a crime for a series of robberies in Moultrie.
In 2003, Moore was sentenced to 50 years in prison. Now, 29 years later, after he has served 22 years behind bars, a judge has ruled the case should not be further prosecuted. Moore is now free.
In May 2023, Moore was granted a new trial. A motion for retrial, states "had this DNA evidence been available to the defendant it is probable that at least one reasonable juror would have had reasonable doubt about Moore's guilt." But that no trial will no longer happen.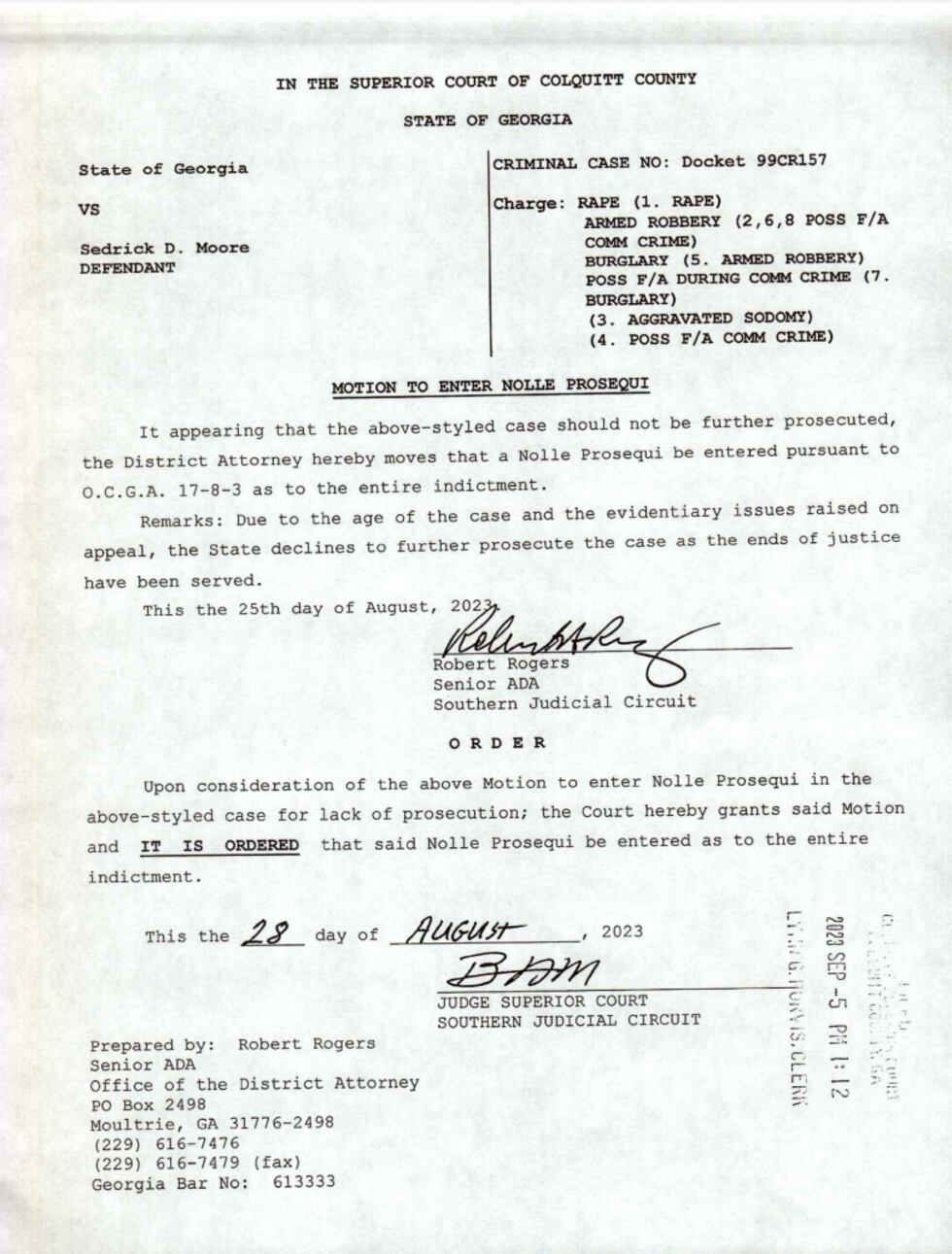 Moore said 22 years of his life was robbed from him by the justice system.
"It's just the embarrassment and the humiliation of being in there, you know, and constantly moved around and uncomfortable for years inside dormitory after dormitory, cell after cell," Moore said. "Most definitely I was wrongfully convicted."
Back in May 2023, Moore's attorney filed an extraordinary motion — outlining why the evidence against Moore was insufficient.
Despite Moore being granted a retrial, and then his case being dismissed altogether, Southern Judicial Circuit District Attorney Brad Shealy says there is still evidence of flight against Moore after he went home to Philadelphia twice according to court documents.
"I don't feel that Mr. Moore has been exonerated based on the opinion of the court, but I don't see that it's a wise use of the community's resources and time to try the case where he's already served 20-something years," Moore said. "The court that reversed him did not say he was innocent. It simply said if you're going to retry or revisit it, you're going to have to do it without DNA evidence."
One of Moore's co-defendants was already exonerated and compensated in 2020 after serving 18 years while the other co-defendant served out his full-time, 15 years.
Moore said his story is an example of a bigger issue within the justice system.
"It's definitely a malicious process. There's a lot of other guys that are incarcerated that are in the same situation, a lot more than the public may think", he said.
Dawson native Jimmie C. Gardner is one of those men who said he can relate to Moore's story.
"With challenges come opportunity for growth," he said.
Gardner was exonerated in 2016 after being wrongfully convicted in a 1990 sexual assault case. Now, helps other wrongfully incarcerated inmates transition back into society.
"It's a wrong to society and I believe the prosecution needs to admit wrong and move forward in hopes of seeking the right culprit," Dardner said.
Even with the dismissal, Moore says there's still justice to be paid.
"It's just a thing of where you can't give up," Moore said.
Copyright 2023 WALB. All rights reserved.