Recovery continues after Valdosta Hurricane Idalia survivor released from hospital after 4 week stay
Published: Sep. 28, 2023 at 6:19 PM EDT
VALDOSTA, Ga. (WALB) - One Valdosta man, who was seriously injured during Hurricane Idalia, is finally making his way to a rehabilitation center.
After the storm, Nick Liam, 20, was being a good samaritan trying to help others move a tree blocking the road — when another tree struck him and left him in critical condition.
"He had texted me at about 1:20 p.m. and said that they couldn't move the tree, so he was turning around to go home. I texted him back at 1:30 pm, and I just said 'be careful' and that I loved him, and I never heard anything else. My husband and I were both extremely terrified," Susan Liam, Nick's mother, said.
Nick was taken to South Georgia Medical Center where he spent four weeks. When he arrived, he had multiple broken bones and a severe neck and brain injury. He was released this week and is currently undergoing rehabilitation treatment at Shepherd Center in Atlanta.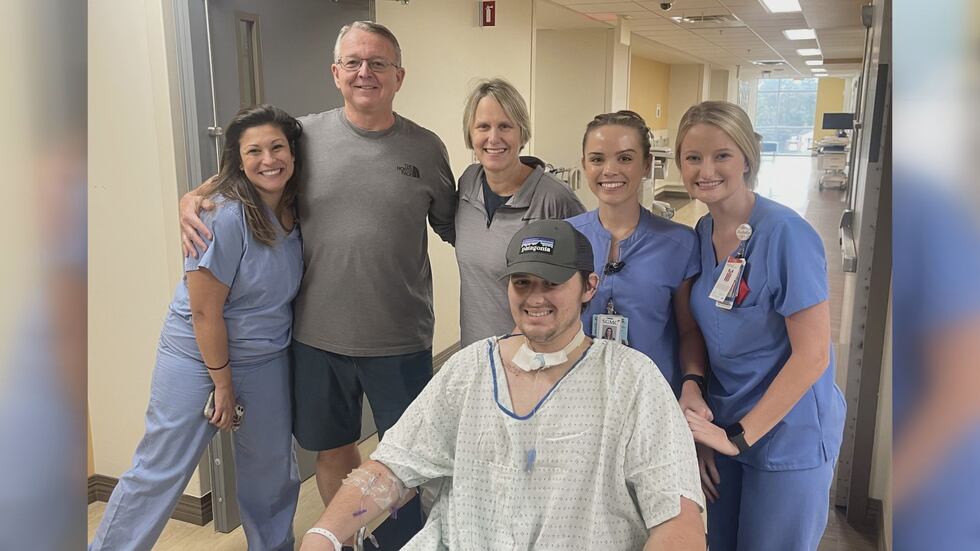 SGMC says they performed several tedious surgeries on Nick, and they're glad they got to him when they did.
"The way he feeds himself, or how he dresses, all of those things have been compromised because of that head injury. And that's what their focus will be to help him get back to 100% functionality," Emily Brown, SGMC's EMS director, said. "It took us many hours to be able to travel roadways safely to be able to get to patients. We were having to be very creative and put people in the back of pickup trucks to be able to get them to where we can pick them up in the ambulance. Which is what we had to do with Nick in order to get him safely to the ambulance."
Nick's family says from the time they got to SGMC, they were all treated with great care.
"We are forever indebted to the first responders, EMS, the ambulance drivers — everyone. Without them, we would be having a different conversation right now," Susan said.
SGMC described this incident as a miracle and said Nick is in far better health than the day of the event.
Copyright 2023 WALB. All rights reserved.