New manufacturing facility breaks ground in Bainbridge
Published: Jun. 27, 2023 at 11:28 PM EDT
BAINBRIDGE, Ga. (WALB) - South Georgia is seeing more investments with the latest project breaking ground in Bainbridge.
An $800 million project with Anovion Technologies and will be on a 1.5 million square foot factory, creating over 400 jobs for the residents of Decatur County.
Anovion is an American-owned, climate-tech-driven company that broke ground right here, creating unprecedented job growth in the city of Bainbridge. 412 jobs Anovion Technologies will bring with the groundbreaking as they push for Georgia to be the number one state for the path of e-mobility.
"This was exactly what we were working to achieve, and those manufacturing incentives, those infrastructure policy are bringing jobs and investments to the state of Georgia. And that's something we all should celebrate," Georgia Senator Jon Ossoff said.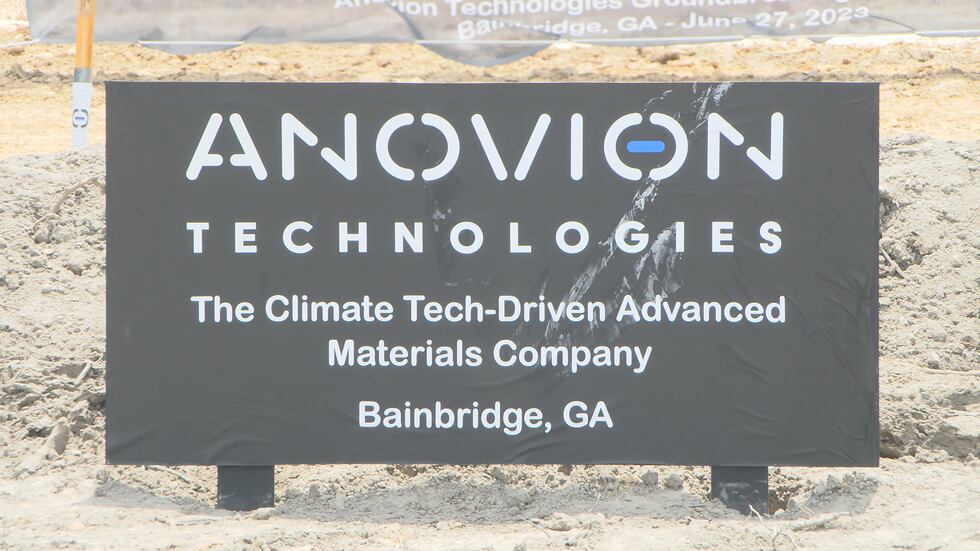 "This will contribute to American energy independence, lowering costs for families and businesses and creating jobs right here in Southwest Georgia," U.S. Congressman Sanford Bishop said.
That's what Anovion leaders say they're planning to do starting in Bainbridge. Helping to push Georgia to be the leading state in electronic mobility.
"Anovion is an upstream supplier to battery makers, the same batteries that go into lithium-ion batteries for vehicles, we make the materials that go into those batteries," CEO of Anovion Technologies Eric Stopka said.
Those batteries are used in a lot of everyday use items like cellphones, cars and medical devices like pacemakers.
"Anovion is bringing the capability of making synthetic graphite back to the United States cause today most of that is happening in Asia and China," said Chairman and Lead Investor of Anovion Technologies Chip Dunn.
Anovion's average wage is $63,000 a year. But, Executive Director of the Developmental Authority Rick McCaskill says that the main problem they experience in Bainbridge is keeping young people in the city after they graduate. But with these new jobs, they hope it will be an incentive to keep residents here.
"These technical and high-quality jobs will just cover everything from warehouse to office, to manufacturing to supervision, all across the board," said McCaskill.
Not only will this company provide economic stimulation to the city, but they also plan to open up educational doors too.
"Anovion will be providing scholarships for deserving students from our area to attend Southern Regional Technical College," President of Southern Regional Technical College Jim Glass said.
City Manager of the City of Bainbridge Chris Harvey agrees.
"When they finish their education whether it be high school education, technical college education, or even college, that there are jobs now for them to come home to," Harvey said.
Anovion leaders say Bainbridge is an ideal location for the new facility. They say the city is in a great location and has the potential to help reduce a carbon footprint while increasing Georgia's clean air manufacturing capacity.
"Access to some great ports whether it be Savannah or Panama City (Florida), or possibly the Bainbridge port itself. It has access to a lot of power which is really important to us. Georgia Power is developing some big new infrastructure for us," said Dunn.
According to state leaders, this is one of the fastest-growing projects in Georgia. The grand opening is planned for 2025.
Copyright 2023 WALB. All rights reserved.