Tory Carter hosts 2nd annual summer youth football camp
Published: Jun. 24, 2023 at 10:51 PM EDT
LEESBURG, Ga. (WALB) - Today, Tory Carter hosted his summer youth football camp. Kids age 5-14 participated in drills, competitions, and workouts. Along with Carter former teammate Mark Robinson who was selected by the Steelers in the seventh round of the 2022 NFL draft and Jamie Robinson who was selected in the fifth round of the 2023 draft by the Carolina Panthers was also in attendance. Lee County High School head football coach Dean Fabrizio orchestrated the camp and was excited to have all three former Trojan stars there for the kids and their families saying,
"This is the great thing for the community. To have almost 100 kids out here today again for the second year in a row it's just a great thing for this community. I'm so proud of Tory and it's a really special day here in Lee County. Not only with Tory coming back, but with Jammie Robinson and Mark Robinson here. You know three NFL guys all played on this field, to have them all back here at the same time with their busy schedules to take time to come help the community, It's a really special thing and I am I'm just so proud of those three guys."
There were a lot of smiles on the kids faces, more importantly they were out here competing and that seemed to be the biggest message from the three professional athletes out here today and coach himself, was watching these kids compete. The message to these young athletes is they can accomplish anything they put their mind to as long as they work for it.
Carter said, "I'm looking for competition, I'm looking for smiles, I'm looking for sad faces. I want them to understand that adversity happens in all phases of life. Football taught me personally how to embrace adversity and how to get up when you're down. I just want to see those smiles, see those frowns and for them to know what it means to be a good character human."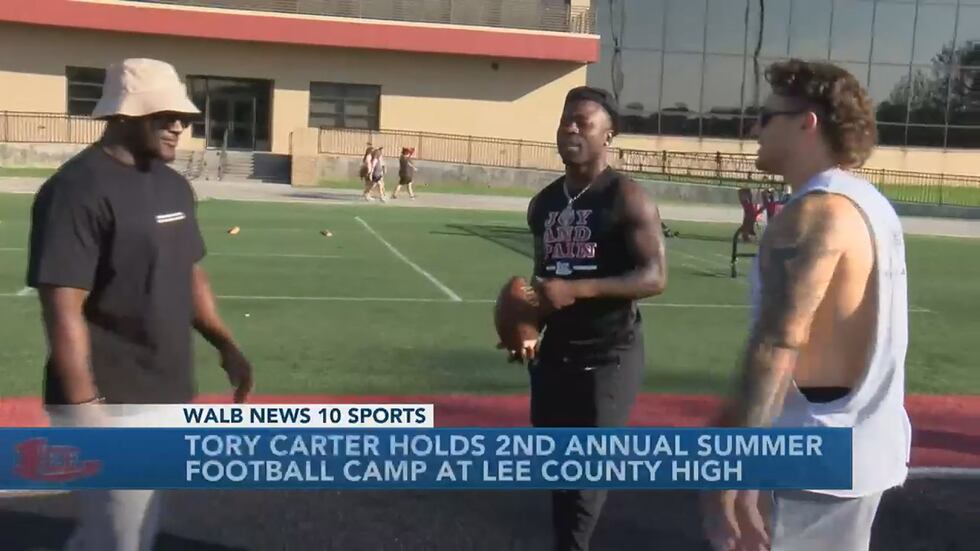 "I just wanna make sure that every one of these kids know they got equal opportunity and put in the work is a dream is there any don't have nobody name on it. It could be yours", said Mark Robinson.
Tory Carter's father shared how hard Carter and Robinson worked to get to where they are. They would compete, just him Robinson and a trainer and they would go head to head just out working the opponents and you could see the enthusiasm he has working with these young kids. Carter wants to spread the message that they can do anything they want to do. He may not have been the most talented on the field at LSU, but he was out working his contemporaries.
"It meant a lot to me for those guys to come out and join me in this camp this year. It's huge for kids cause they're able to see what they can achieve with hard work and dedication and the little things and embracing all adversity that comes along with life," said Carter.
"Life is a competition You know every day we go out, you don't know when your last day is going to be so I feel like you always have to be your best version. Put your best version out every day and be the same every day. That's one thing I learned as a young kid growing up. You always have to be the same…you hear coach Fabrizio in the background loud right now. I miss that…I miss those times, I miss having fun and you know those kids are having fun and are blessed. I'm happy to be a part of this camp and I know for sure one day I'll host my own camp and have fun like I am today". Said Jammie Robinson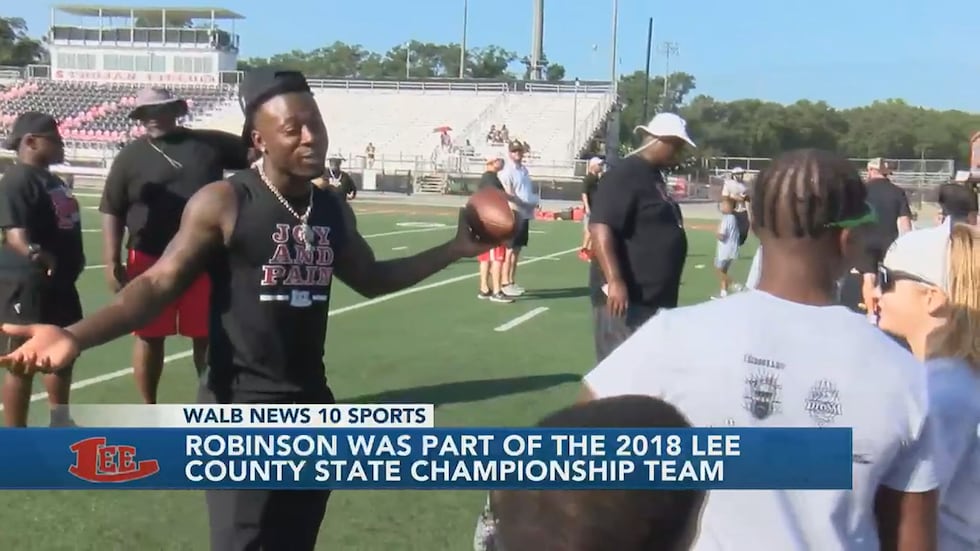 Of course any time you have competition, you have to find out who's the fastest and oh boy did it live up to the hype. These young kids went head to head and of course only champions are crowned at Lee County.
Carter plans to continue this camp each year at Lee County, so expect another in 2024.
Copyright 2023 WALB. All rights reserved.