Michigan man receives Georgia hospitality during 1,500-mile walk for veterans
Published: May. 26, 2023 at 6:14 PM EDT
TIFTON, Ga. (WALB) - A man's 1,500-mile walk across America for wounded veterans took a path through South Georgia.
Jack Huffman estimates that he will walk 3 million steps through his journey from Sarasota Florida to a "Salute our Veterans" event in Michigan. All of that alone except for his partner, a dove.
On his way up through Southwest Georgia, he's enjoying some Southern hospitality. WALB caught up with Huffman as he was nearing Cordele.
In Adel, a local sweets shop provided him with lunch with lots of water. They also gave him gifts.
"From the moment he stepped in the county line, people were supporting him thanking him for his doing," Dana David, Adel's Main Street Director, said
He spent time answering questions from kids and taking photos with law enforcement. In Sycamore, he ate at Walkers Barbecue.
"It was incredible. We had a whole bunch of people come out in the community. The food here is….oh it's good," Huffman said.
In Tifton, he was gifted a free pair of shoes by Tifton's Best Running. He said he's definitely going to need a new pair on his way up.
"We have an amazing running community here. Running, walking, run-walking. It's important to get them moving at a young age and to continue an active lifestyle," Don Borowki, owner of Tifton's Best Running. said.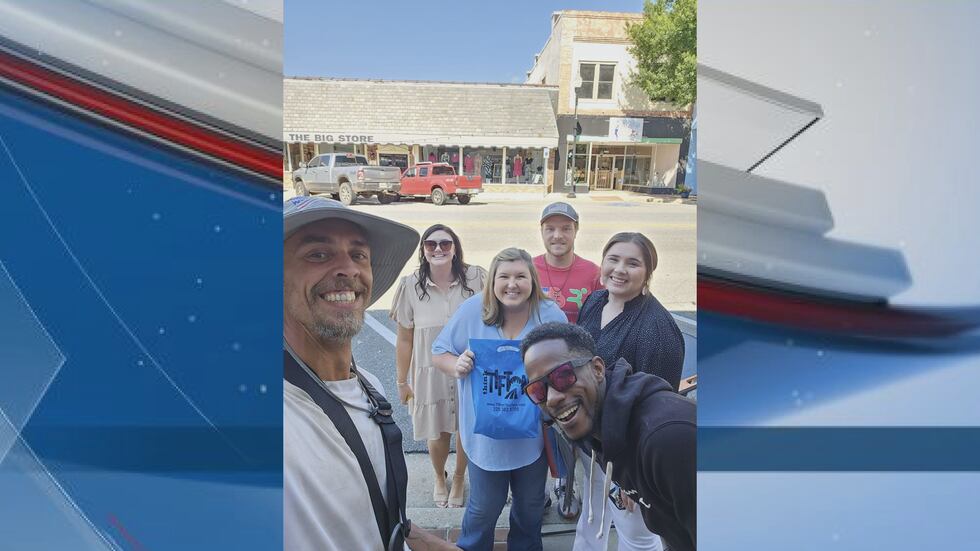 The journey is more than about supporting veterans. For Huffman, it's about continuing to inspire young people. The journey for him started at the dinner table at Thanksgiving in 2017. He said he was smoking, eating and drinking too much then.
"Something just clicked. I started walking. I started eating right, and within 90 days, I lost about 50 pounds," Huffman said.
You can track him through his Facebook page "JaxWalks."
Huffman is walking 30 miles and nearly 60,000 steps per day. He is also burning nearly 5,000 calories per day. He still has more than 1,000 miles to go. He estimates that he will walk 3 million steps through his journey.
"When I get back, I'm looking forward to jumping into the lake with my son. Catching up and hanging out with him. I want to inspire our communities to chase your dreams a little bit. A lot of us are stuck where we're at," Huffman said.
You can also donate to his cause by clicking here.
Copyright 2023 WALB. All rights reserved.