Alabama lawmakers approve tax rebates of $150 per person
Alabama lawmakers on Thursday gave final approval to a one-time tax rebate that will give $150 to single people and $300 to married couples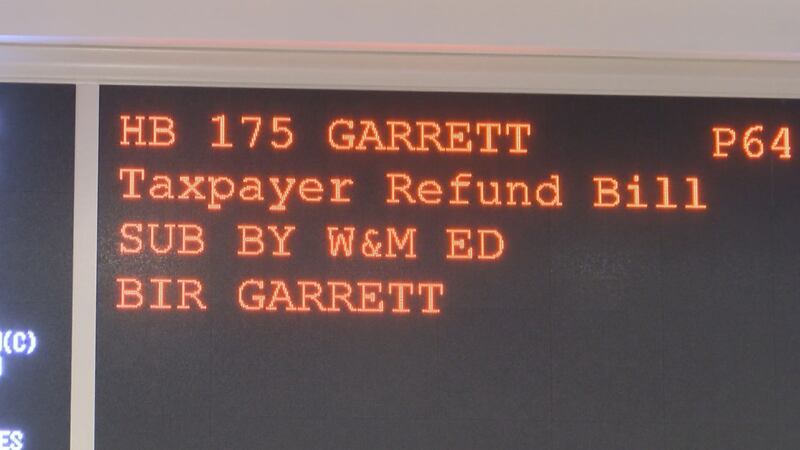 Published: May. 25, 2023 at 9:54 PM EDT
|
Updated: May. 26, 2023 at 12:35 AM EDT
MONTGOMERY, Ala. (AP) — Alabama lawmakers on Thursday gave final approval to a one-time tax rebate that will give $150 to single people and $300 to married couples.
Legislators agreed to a late-night compromise between different rebate amounts that had been approved in the House of Representatives and Alabama Senate. Senators voted 27-4 and representatives voted 103-0 for the compromise amount, which will cost the state an estimated $393 million.
The bill now goes to Alabama Gov. Kay Ivey who will decide whether to sign the legislation into law. Ivey in March called for larger rebates of $400 for singles and $800 for married couples to return "our taxpayers' hard-earned dollars back to them" as the state sees an unusual $2.8 billion budget surplus.
Senate Finance and Taxation Committee Chairman Arthur Orr said lawmakers settled on a rebate they thought would be significant but still affordable for state education coffers. He said there was concern about the cost of the larger rebate to the education budget, particularly as lawmakers consider other significant tax cuts, such as lowering the state sales tax on food.
Lawmakers are trying to make strategic choices with the surplus, but could not fulfill every tax cut and funding request because of concerns about an eventual economic downturn, he said.
"We're not going to raise taxes. So if we give away too much, then what happens? We start cutting and that affects the children across the state and educational delivery across this state," Orr said.
The House had initially approved rebates of $210 and $420, while the Senate sought rebates half that size.
However, some lawmakers argued that the money will not go to those who need it the most — people who don't file tax returns because they earn too little or are living off retirement benefits. The rebates would only go to people who filed tax returns for 2021.
"That $420 will not make a difference in my life, but for that person that may be living from day-to-day on nothing but a Social Security retirement — that $210 or $420 will make a big difference," Rep. A.J. McCampbell, a Democrat from Livingston, said during debate on the larger amount.
Republican Rep. Danny Garrett, chairman of the House education budget committee, said he understood the concerns, but called the legislation essentially a refund to people who paid state income taxes.
"This will cover 1.9 million tax filers in the state, so it's a lot of people that will benefit from this," Garrett said.
The rebate bill was approved as part of an appropriations package that also reached final passage Thursday night. Lawmakers approved a nearly $9 billion education trust fund budget, which included a 2% pay raise for public school teachers and K-12 employees and the creation of a new $300 million savings account for the education budget. Those bills also go to the governor.
The House of Representatives also advanced a plan to lower the state sales tax on food from 4% to 2%.