Athletes from the 229 have successful weekend at the track and field state championships
Published: May. 15, 2023 at 3:31 PM EDT
ALBANY, Ga. (WALB) - This weekend track and field athletes competed all over the state of Georgia in the GHSA state championships. Hugh Mills played host to the 3A and 4A divisions and South Georgia was well represented.
Boys
Westover's Jaylan McLloyd who is brand new to the track finished 6th in the boys 4A 400 meter race. McLloyd ran a time of 48.64 in just his fourth ever meet. He made the switch from the baseball diamond to the track mid season and the confident sophomore knows he will be back to chase the top spot saying,
"I mean after baseball season I was just ready to come out here and work. I came out here qualified for state, came out here and got 6th place. My mentality the whole way through the track was breathe through my nose, out my mouth make sure I qualify and make sure I get up on that podium. It feels good, I mean I know I'm fast, my dad's fast, uncle's fast, my whole family is fast. It just felt real good"
In the boys 4A 300 meter hurdles, Bainbridge's Jace Weaver set a personal record and finished 6th. One year after not qualifying for his event, he left everything out on the track. He qualified for state and made his way into the top 8. Weaver said,
"It feels amazing. Working hard all this season, coach told me to put it all together, my dad helped me as well being able to just have this moment and be back here again, you know last year I didn't qualify for the 110 and back at sectionals I failed so to be able to PR here today and have this moment and it be the top 8 today feels amazing and I just want to thank god."
Crisp County's Marino Blanton who just started running in the boys 800 meter event right before regionals, qualified and placed 8th with a time of 2:02:03. New to the 800 Blanton was happy with his performance and knows he will be even better in the future now that he's familiar with the event saying,
"It feels great. It means a lot because I wasn't practicing for this so I know when I practice this summer it's going to be better next year. I started the meet before region and I did pretty good and from there I just stuck out with it and I made it to state. Next year I'm going to come back stronger and I know I can do it cause like you said I wasn't expected to be here."
Girls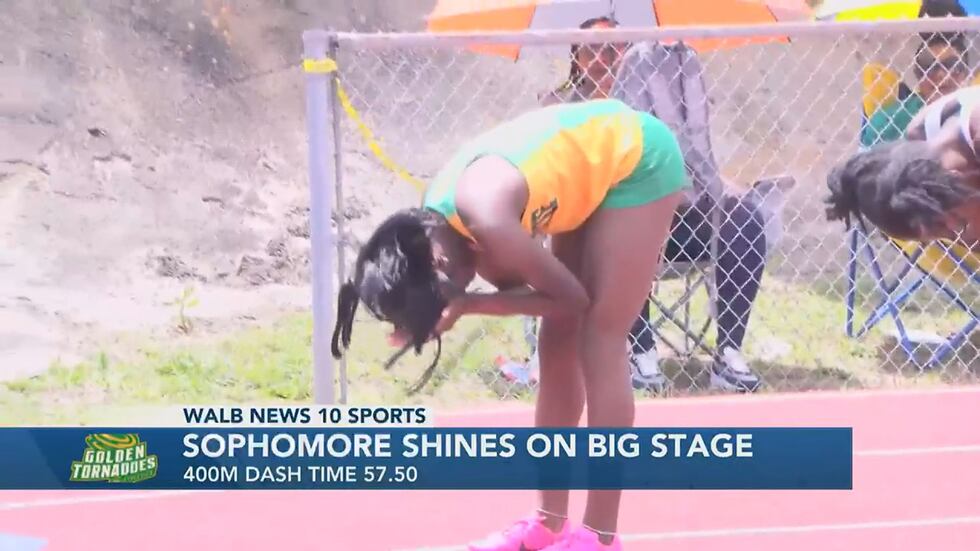 On the girls side, it was a big time showing by Monroe sophomore Kaitlyn Williams. Williams ran a time of 57.5 in the girls 3A 400 meters race. She captured the silver medal which was more than she expected. Williams said,
"I was actually shocked because I had my mindset to get fourth place because of how I ran previously, but I ended up coming back and getting second. I was overwhelmed because I was so surprised and in shock to actually do something like that in a day."
The Golden Tornado girls weren't done. Fellow Sophomore Marianna Wright was dominant winning by a large margin in the 300 meter hurdles. After setting a new state record of 40.81 in the prelims, she captured gold in the finals. The new state record holder is also now the second fastest 300 meter girls hurdler in the nation. Wright says there is more work to be done.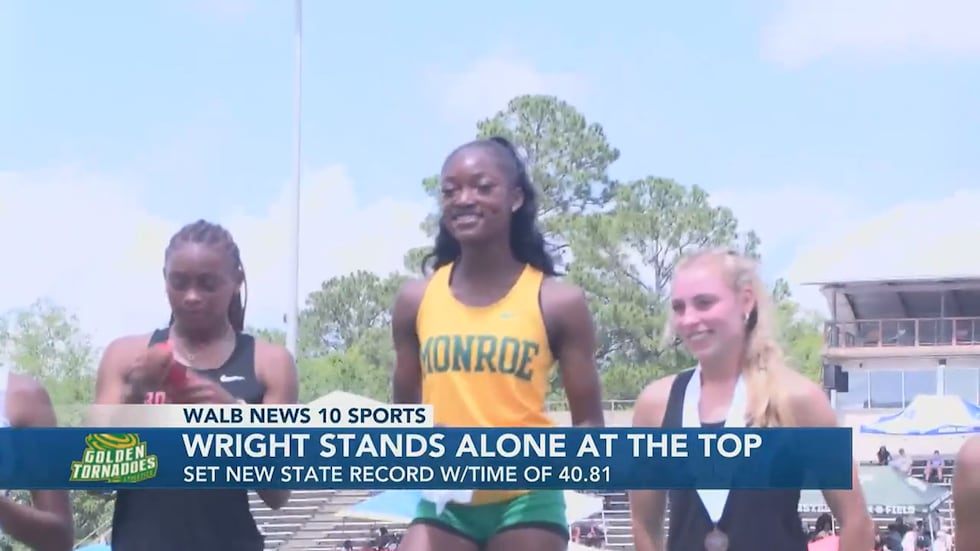 "I felt so proud to break the state record because it's been my goal the entire season. I been working hard all season so it was great to see that work finally pay off. I still have times that I am trying to reach, I'm not done yet, I'm still working hard."
Bainbridge senior Nya Blocker found her way to the podium finishing 3rd capturing the bronze medal in the girls 4A 200 meter with a time of 24.22. Blocker also competed in the long jump. She is headed to FAMU this fall and ready for the next level. Blocker said,
"It feels pretty good you know. There's a lot of people out here that have a lot of talent and I feel like they're pushing me to be at my greatest so I feel like I did really good. I feel like I have done a lot and come through a lot in my senior year. I have no regrets, I am ready for college and I know I'll be running better times as the people running in college and I'm just excited."
Copyright 2023 WALB. All rights reserved.