Phoebe caring for only 3 COVID patients as world emergency ends for virus
The World Health Organization says COVID-19 is not longer a world health emergency
Published: May. 5, 2023 at 10:54 PM EDT
ALBANY, Ga. (WALB) - Low case numbers of COVID-19 have made Phoebe Putney Memorial Hospital change its tactics in battling health issues in South Georgia communities. As of Friday, Phoebe has three COVID patients being treated.
"Who isn't going to be happy about that? Especially me going into public and going out and not being afraid of catching it like that anymore," Willie Easom, a Leesburg resident, said.
Although it's not over yet, people are glad that at least the World Health Organization is saying it's not an emergency anymore. Phoebe's Dr. James Black, Phoebe's medical director for emergency services, says he's optimistic for summer based on the current numbers he sees.
"We are cautiously optimistic. We've enjoyed low numbers for the past several weeks now and there's no indication that there's a surge anywhere," Black said.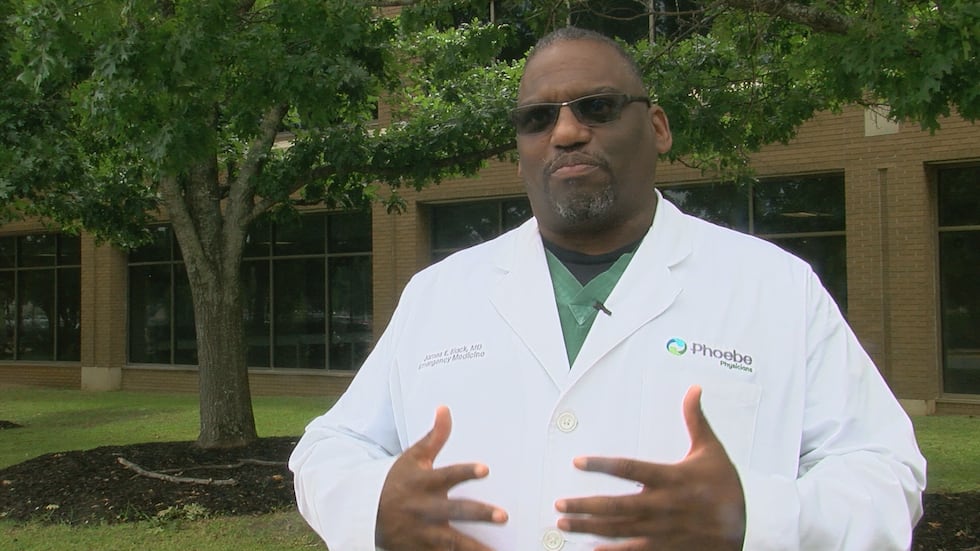 Although COVID is not a day-to-day issue for Phoebe compared to it once was, they and other local organizations are still partnering up to get COVID vaccinations to the community and using the mobile unit as a launching point for overall health.
"As COVID numbers wane, our focus will shift to other parts of maintaining the health of our community," Black said.
Dr. Michael G Ephraim, Sr. Bethel AME pastor, has held vaccine events at Bethel African Methodist Episcopal (AME) Church every month for the last 18 months. He does it through Phoebe's mobile unit. He estimates that they've vaccinated over 200 people. Dr. Ephraim says interest remains high for vaccinations, but there are other health issues they want to pivot to.
"We believe that is a truth of the gospel to heal. Black men are notorious for not getting screened," Ephraim said.
The unit will have screenings for blood pressure, glucose and diabetes. With the COVID world health emergency now over, Albany residents are still mixed with getting.
Although she's more willing to go out, Shakira Jackson says she will still keep getting vaccinated.
"People should do what they believe in. Me personally, I'm not going to get it because I don't believe in the vaccine," Easom said.
Dr. Black says getting vaccinated is a personal assessment. He says vaccines will still be free and are available at Phoebe, but you will have to pay for appointments. You can also schedule a vaccine through the Department of Public Health.
Dr. Black said masks still work if you're trying to prevent yourself from catching the virus.
"You have to judge your risk. Both extremes of age. The very young and the very old and the people with comorbidities or those taking care of people who are susceptible," Black said.
WALB's Anthony Bordanaro went to Walmart to check for the number of shoppers who are still wearing masks. He counted about 1 in every 20 to 25 shoppers still wearing them. Dr. Black says he's noticed a lower mask-wearing trend too. He said it's a good idea to wear masks for viruses other than COVID.
"It's helpful not only for COVID, but things for influenza and other respiratory viruses that are transmissible," Black said.
The Department of Public Health (DPH) Southwest District reported six deaths from COVID in March 2023. 300 cases were reported in April 2023, although DPH also says that number is likely higher as fewer people are interested in testing.
Albany's Bethel AME will have another event on the weekend of May 5-6. It will be from 9-12:30 p.m.
Copyright 2023 WALB. All rights reserved.