Lowndes Co. community comes together to raise money for 6-year-old fighting cancer for the second time
Published: May. 5, 2023 at 5:10 PM EDT
|
Updated: May. 5, 2023 at 7:00 PM EDT
VALDOSTA, Ga. (WALB) - Research shows that more than 9,000 children in the United States under the age of 15 will be diagnosed with cancer in 2023.
A group of community members in Lowndes County held a Chicken Dinner Fundraiser to support Annabelle Dykes, a six-year-old currently fighting childhood cancer for the second time.
"There aren't enough words to describe how appreciative we are really. It's very surreal. They've stepped up without us having to ask for a thing. It's completely overwhelming. I wish I had the words to say how thankful we are for it" Sophie Dykes, mother of Anabelle, said.
Annabelle was first diagnosed with leukemia in 2017. Recently, she was diagnosed with another type of leukemia.
"Childhood cancer affects everyone. Whether you're the parent with a child, or whether you're a community that can help someone," Theresa Freeman, one organizer of the event, said. "I think it's really important to educate our community that anything you can do to help whether it's small, big, just your time or prayer is great."
When WALB spoke with leaders of the event early on Friday, they said they had already sold over 1,200 plates and people were still coming.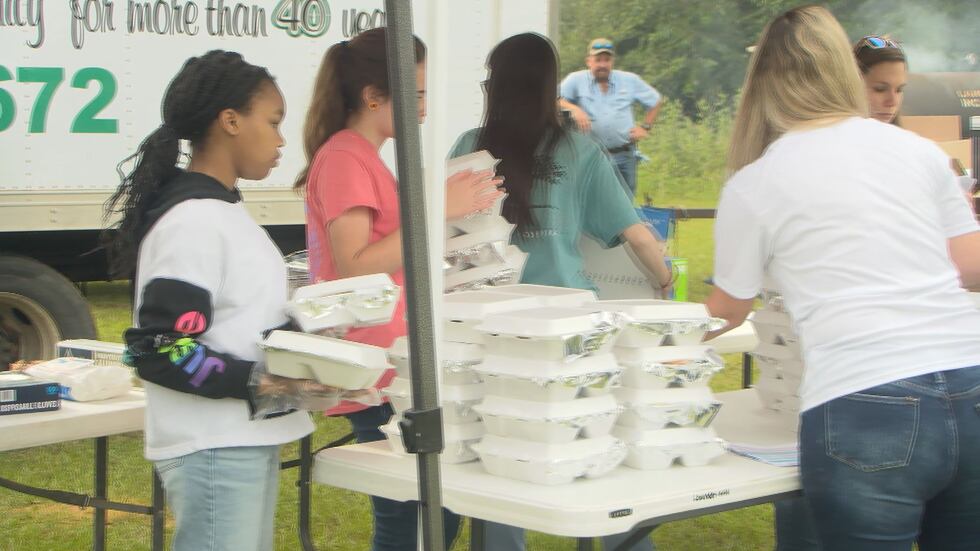 "I just think it's nice for the community to come together as one," Amanda Dasher, another organizer, said. "You don't even ask for help and everybody's like 'what can I do, what can I do?' We have done a couple of chicken dinner fundraisers for different causes, not as big as this one has turned out to be. I'm just grateful to see everyone come together."
Organizers and Annabelle's family thank all who were involved in making this happen, and everyone who supported and bought a plate. All proceeds will go to Annabelle Dykes.
Copyright 2023 WALB. All rights reserved.