Why has this Georgia man been behind bars for 10 years awaiting trial?
Police arrested Maurice Jimmerson and four others in 2013 for murder. A jury acquitted two of them, but for 10 years, Jimmerson has spent the majority of that time in a county jail, legally innocent.
Published: Apr. 26, 2023 at 3:26 PM EDT
|
Updated: May. 1, 2023 at 8:42 AM EDT
ALBANY, Ga. (Atlanta News First) - Sitting at her dining room table, Sonya Holmes writes a postcard to her son who she hasn't seen, in person, for years. She mails at least one a week.
"It's just a quick hello to let him know he's always being thought about," Holmes said.
Her son, Maurice Jimmerson, lives less than seven miles away, but behind the concrete walls and barbed wire of the Dougherty County Jail. In 2013, the Albany Police Department arrested Jimmerson and four others for double murder. Two of the co-defendants were acquitted by a jury in 2017.
For most of the past 10 years, Jimmerson has been behind bars, yet never given the opportunity to tell his side of the story at trial. He has pleaded not guilty.
"Nobody talks about it," Holmes said. "There's no news coverage. Nothing is said about it. Maurice feels helpless."
According to Dougherty County District Attorney Gregory Edwards, there are multiple reasons for delays in Jimmerson's case, including the pandemic and a 2021 flood at the courthouse that temporarily paused trials.
The district attorney also blames the holdup on the original judge involved in the case, who allowed each defendant to be tried separately, instead of all at once.
While awaiting trial, Jimmerson, now 32, briefly served time in a state prison for an unrelated offense, but Edwards said his trial could have moved forward during that time.
"Jimmerson's case, it's a rare situation," Edwards said. "We want to get to trial eventually." He said the current delay is directly linked to Jimmerson not having an attorney to represent him for months.
Court records show his lawyer withdrew from the case in July 2022. "I need a public defender for my case... I've been waiting for a trial date," Jimmerson wrote on a postcard from the Dougherty County jail in September 2022 to the county clerk's office.
Eight months later, Jimmerson said he still didn't have an attorney.
"This is a problem that is at a crisis level right now and is likely to get worse," said Maya Chaudhuri, an attorney with the Southern Center for Human Rights, an Atlanta-based civil rights organization.
Over the past few months, Chaudhuri said she's traveled across the state tracking down people in jail charged with crimes who do not have court-appointed attorneys. Jimmerson is one of them.
The Sixth Amendment of the U.S. Constitution guarantees people accused of crimes the right to a speedy trial and access to an attorney if they cannot afford one. "For so many of the people that I've met with in jails, who have been in there for months and sometimes years, I'm the first attorney that they've seen," Chaudhuri said.
Why Jimmerson went so long without legal representation highlights a cascade of failures in Georgia's criminal justice system.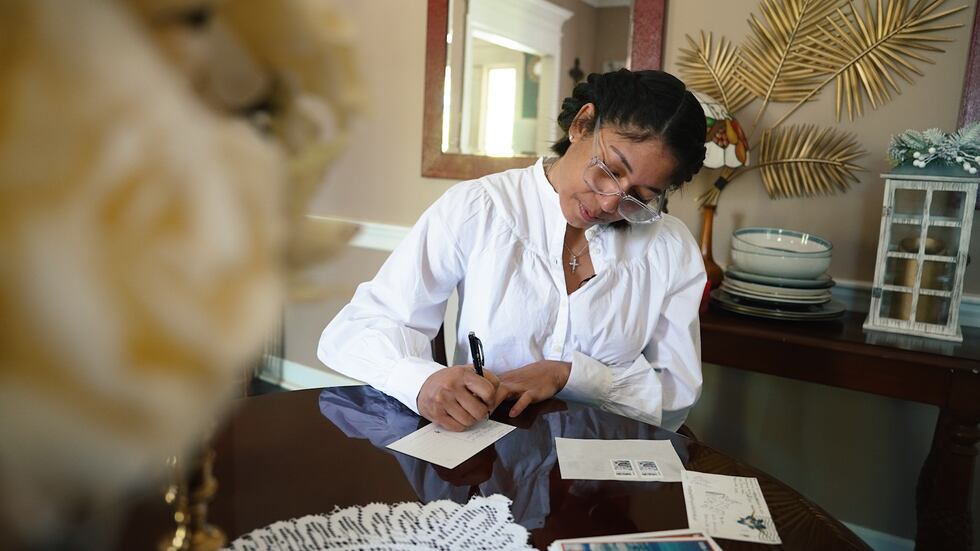 Timeline of events
Jimmerson's former attorney, Benjamin Harrell, filed motions to withdraw from the case in July and August last year. Court records show he asked to leave the case because his newborn daughter needed medical care that required traveling throughout the state.
Harrell is a private attorney who was paid by the Georgia Public Defender Council to represent Jimmerson. The Defender Council, which is a taxpayer-funded state agency, represents 85% of people in Georgia accused of crimes.
Harrell did not respond to multiple messages asking him if he alerted the Defender Council before or after filing his motion to leave the case. The agency also did not respond to questions in which it was asked if it received any prior notification from Harrell.
In September 2022, Jimmerson sent a post card to the county clerk's office, asking someone to appoint him a new public defender. The judicial assistant for Superior Court Judge Victoria Darrisaw, who is now presiding over the case, told Atlanta News First Investigates her office was unaware of Jimmerson's request at that time.
On March 21, 2023, the Southern Center notified the Defender Council that Jimmerson did not have an attorney. "Mr. Jimmerson has now been without C-3 counsel for nine months, while two of his co-defendants went to trial years ago," Chaudhuri wrote in letter. "He is in a dorm for people with mental health diagnoses and is only permitted to come out of his cell for one hour every other day."
The Southern Center said the agency never responded.
On April 11, 2023, Atlanta News First Investigates emailed Darrisaw's office, asking why she never signed an order allowing Harrell to withdraw from the case.
On April 12, 2023, Darriasaw's judicial assistant told Atlanta News First Investigates by phone that staff mistakenly misplaced the order when it was originally requested in 2022. A few hours later, the order was filed with the clerk's office.
On April 14, 2023, Atlanta News First Investigates emailed Natalie Glaser, the Defender Council's chief legal officer, to notify the agency Jimmerson did not have an attorney.
On April 17, 2023, attorney Angela Dillion filed an entry of appearance to represent Jimmerson. According to her voicemail, Dillon is the agency's Southwest Regional Public Defender.
Agency responds
The Defender Council argues Jimmerson has had an attorney the entire time because Darrisaw never signed and filed the order releasing Harrell from the case.
"A court error, if one took place, does not obviate Mr. Harrell's responsibilities or representation," said Thomas O'Conner, the Defender Council's communications director. "In law and in fact, Mr. Harrell was Mr. Jimmerson's attorney until April 12; assertions to the contrary are deliberately misleading."
The Southern Center disagrees. "To claim that Mr. Jimmerson was 'represented' under these circumstances makes a mockery of the right to counsel," Chaudhuri said. "This is certainly not the type of 'representation' anyone of means would pay for."
Records dispute
To identify how many people need legal representation in Georgia, the Southern Center has submitted multiple public records requests this year to the Defender Council. It's specifically looking for people charged with crimes, that include multiple defendants in the same case, in need of attorneys. These individuals typically need lawyers known as "conflict" or "C-3″ attorneys, who are often private attorneys paid by the state to represent indigent individuals. Cases that involve multiple defendants charged in the same crime need to be represented by different offices and lawyers to avoid conflicts of interest.
In a letter the Southern Center sent to the Georgia Attorney General in February, it claims the Defender Council is "intentionally making records difficult to obtain" by over-charging for documents and providing "increasingly incomplete records."
The agency said that's false. "[The Georgia Public Defender Council] follows the law when responding to all requests for records," O'Conner said. "[The Southern Center] routinely submits requests for voluminous datasets and records requiring significant administrative time to fulfill."
A spokesperson for the attorney general's office said it received the Southern Center's letter, but is unable to mediate the dispute because its office serves as legal counsel for all state agencies, including the Defender Council. The Southern Center's likely only recourse is civil litigation.
Chaudhuri said many of the records it requested has previously been provided by the Defender Council fairly quickly and at a reasonable cost. "The only thing that has shifted during this time period is the amount of media attention and the public scrutiny that the Georgia public defender council is receiving right now," Chaudhuri said.
Since December, Atlanta News First Investigates has published multiple investigations shedding light on the shortages of court-appointed attorneys and its impact to the state's criminal justice system.
It's a problem the director of the Georgia Public Defender Council, Omotayo Alli, has repeatedly pushed back on. "These last two years have been the most phenomenal," Alli said in an interview this past November.
In a video posted on Fulton County Government Television's YouTube page in March, Alli said the agency is fully staffed. "We have more employees than we've ever had in the history of the agency. We have more funding than we've ever had in the history of the agency and that's the last two years," Alli said.
Multiple judges across the state say otherwise, including Arthur Smith, president of the Council of Superior Court Judges of Georgia, who says he has experienced the problem in his own courtroom.
"We have too few public defenders for the work to be done," said Smith, whose courtroom is in Columbus. "The lack of public defenders slows down the judicial process because, as I said before, we're not going to take a guilty plea or hear a motion of a defendant who wants to be represented, unless he or she has counsel."
The chief justice of the Supreme Court of Georgia acknowledged the issue in his state of judiciary address to lawmakers in March.
"Public defender offices are also having a very difficult time recruiting and retaining lawyers," said Chief Justice Michael Boggs. "Meanwhile and not surprisingly, the number of pending criminal cases grows larger and so does the wait for defendants charged, but not convicted of crimes, who are sitting in local jails awaiting throughout this state indictment or trial. And of course, as you know, punishment is supposed to follow conviction, not precede it."
This story is part of a series about the constitutionally-guaranteed access to legal representation in court, and the challenges that arise when the supply of defenders is limited. Part one in the series looks at defendants' desperate need for representation. Part two covers judges forced to take actions that may erode the public's trust in the judicial system. In part three, former public defenders explain why they left the job. Part four looks at the search for solutions. Part five shows the agency's director admits to lawmakers the Defender Council doesn't have enough attorneys. Part six explains why the Defender Council does not want to pay for investigative resources for an indigent defendant.
If there's something you would like Atlanta News First Investigative Reporter Andy Pierrotti to look into, email andy.pierrotti@wanf.com.
Copyright 2023 WANF. All rights reserved.