Alabama's Brandon Miller has security guard due to threats
Alabama star Brandon Miller is being accompanied at the NCAA Tournament by an armed security guard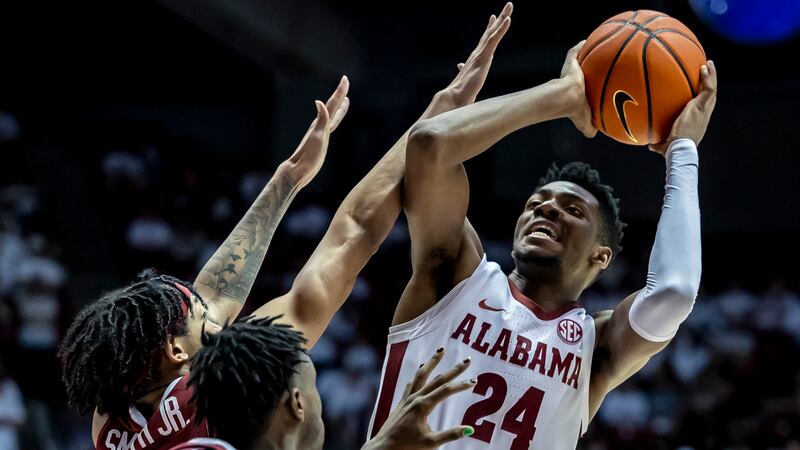 Published: Mar. 15, 2023 at 3:58 PM EDT
BIRMINGHAM, Ala. (AP) — Alabama star Brandon Miller was accompanied by an armed security guard to the NCAA Tournament on Wednesday because of threats directed his way, Crimson Tide coach Nate Oats said.
"If you guys saw some of what I've seen sent his way, I think you would understand why that's the case," Oats said of the extra protection that the school lined up for Miller. "I don't want to get into all that. The entire situation, as you know, is just a heartbreaking situation on all accounts."
Miller name surfaced last month in court testimony involving the capital murder case of former Alabama player Darius Miles and another man, who are charged in the fatal shooting of 23-year-old Jamea Harris on Jan. 15.
A police officer testified that Miles texted Miller asking him to bring Miles' gun in the early morning hours of the shooting. Fellow freshman starter Jaden Bradley was also at the scene. Neither Miller nor Bradley has been accused of any crime, and the university has described Miller as a cooperating witness, not a suspect.
The Crimson Tide (29-5) is a No. 1 seed in the tournament for the first time in school history. They play their opening game in the South Regional on Thursday, facing No. 16 seed Texas A&M-Corpus Christi in Birmingham — less than an hour's drive from the Alabama campus in Tuscaloosa.
The guard, who wore a gun, badge and Alabama polo shirt, accompanied Miller to the interview area and later watched him take part in a light practice.
The freshman, who was the Southeastern Conference player and newcomer of the year, declined to go into specifics about the extra security, implying it was nothing unusual.
"I always travel with security to all the games," Miller said. "That's all I'm gonna say on that."
But Oats conceded it was hardly business as usual.
"Some of the messages from people that can sit behind fake email addresses, but who knows whether they're real or not," Oats said. "But if you'd seen what I've seen, you would understand what's going on right now."
Oats added that he looks at all his players like his own children: "I put myself in his parents' shoes, and our administration has seen the stuff that've I've seen. It's appropriate. But it's nothing a college kid should have to go through."
After his name came light in the case, Miller received a harsh reception during a victory at South Carolina, where the crowd chanted "lock him up" and "guilty."
Miller has repeatedly declined to discuss details of the case, saying last week only that he's relied on the camaraderie of his teammates to cope with issues off the court.
"I just lean on my teammates," he said. "They're like family for me away from home."
___
AP college basketball: https://apnews.com/hub/college-basketball and https://apnews.com/hub/ap-top-25-college-basketball-poll and https://twitter.com/AP_Top25