Community remembers Cairo fallen officer
Published: Jan. 29, 2023 at 10:07 PM EST
|
Updated: Jan. 30, 2023 at 12:08 AM EST
CAIRO, Ga. (WALB) - Law enforcement agencies across the state are mourning the loss of a Cairo police officer who died in the line of duty Saturday evening.
Police said that Clarence or "CJ" Williams died from a medical episode while on a foot pursuit.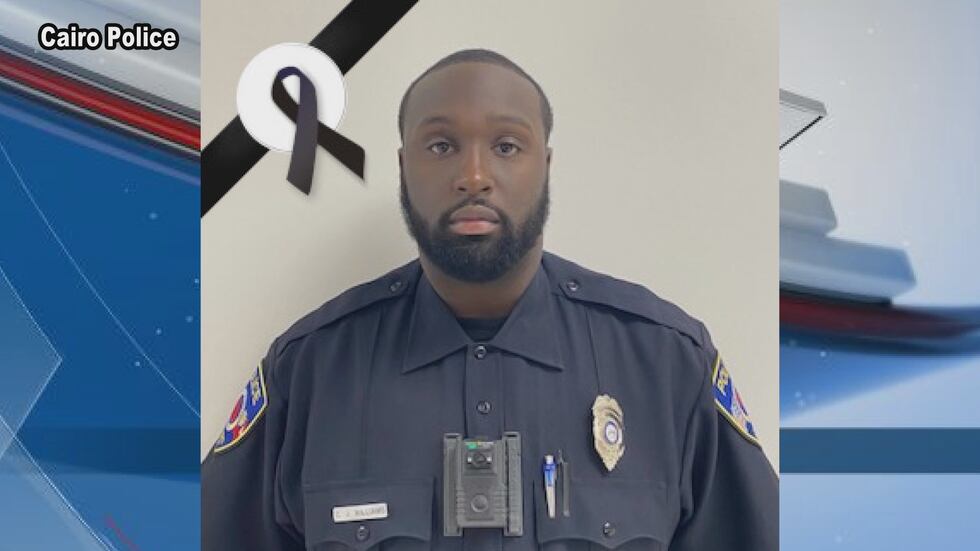 Cairo City Hall, local agencies and businesses flew their flags at half-staff in honor of the fallen officer.
Law enforcement agencies, businesses, and people have also changed their Facebook profile pictures to honor Williams.
Cairo Police said that CJ was a newer officer but quickly gained respect and love from fellow officers and staff.
Brandi Marie Adkins, a Cairo resident, said CJ helped her with theater at Cairo High although he had never been involved before. CJ was also a Syrupmaker football player, wearing the number 20.
Mayor of Cairo, Booker Gainor said he just saw CJ a few days ago before taking a weekend trip to visit family.
"So to hear the situation he was in, It was definitely a shock. We are going to make sure that his legacy lives on in the city of Cairo because he died doing something he loved, something he was passionate about which was protecting the citizens of Cairo," he said.
Brandi Williams, another Cairo resident, said she recently found out she was related to him. When she worked at Washington Middle School, she was his teacher and said he was "a sweetheart and so respectful."
CJ's grandmother-in-law wrote a heartfelt message on her Facebook.
Copyright 2023 WALB. All rights reserved.