AP source: Bill O'Brien agrees to return as Patriots OC
Bill O'Brien has agreed to return to the Patriots as their offensive coordinator, a person familiar with the decision told The Associated Press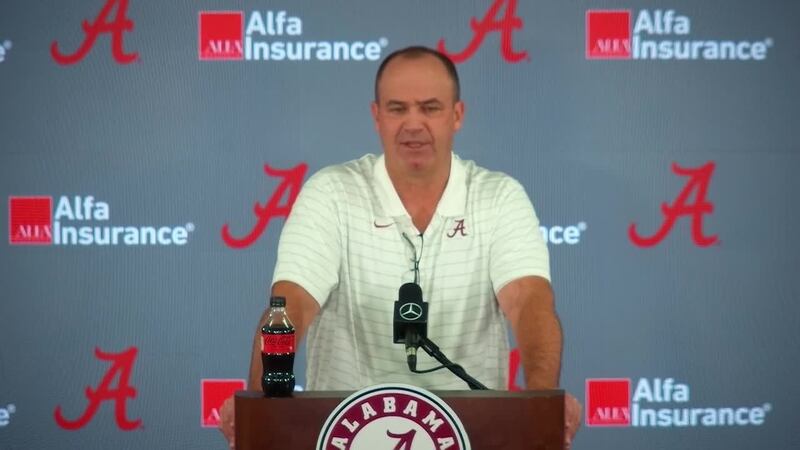 Published: Jan. 24, 2023 at 4:12 PM EST
FOXBOROUGH, Mass. (AP) — Bill O'Brien has agreed to return to the Patriots as their offensive coordinator, a person familiar with the decision told The Associated Press on Tuesday.
The person spoke to the AP on condition of anonymity because the deal hasn't been finalized.
O'Brien spent the past two seasons as offensive coordinator for the University of Alabama. Before that he was the head coach of the Houston Texans from 2014 to 2020, leading them to four playoff appearances before being fired in 2020 after an 0-4 start.
He also served as Penn State's coach from 2012 and 2013. That followed a four-year stint as a Patriots assistant in which he coached receivers and quarterbacks before being promoted to offensive coordinator in 2011. That season New England finished ranked third in points and second in yards.
O'Brien becomes the first official offensive coordinator Patriots coach Bill Belichick has hired since Josh McDaniels left following the 2021 season to take the Las Vegas Raiders coaching job.
Instead of replacing McDaniels this past season, Belichick got more involved in the offense's operations. He also made Matt Patricia, an assistant with a long defensive pedigree, the Patriots' primary offensive play-caller with assistance from quarterbacks coach Joe Judge.
The move was a failure, with second-year quarterback Mac Jones regressing during an underachieving season that saw the Patriots offense ranked in the bottom half of the league in points per game (17th) and last in the NFL in red zone touchdowns.
The only seasons the Patriots ranked worse in scoring was 2020 (27th) with Cam Newton at quarterback and during Belichick's first season in 2000 (25th).
This season ended with New England finishing 8-9 and missing the playoffs — their second sub.-500 campaign in two seasons and just the third under Belichick.
That same day, team owner Robert Kraft sent a letter to season ticket holders promising "critical evaluations of all elements of our football operation."
The usually tight-lipped Patriots also announced the following week that they would be bringing in candidates to interview for coordinator, along with seeking a long-term extension with coveted defensive coach Jerod Mayo.
In addition to O'Brien, the Patriots also interviewed their tight ends coach Nick Caley, Arizona Cardinals associate head coach Shawn Jefferson, University of Oregon offensive line coach Adrian Klemm and Minnesota Vikings receivers coach Keenan McCardell.
Klemm, Jefferson and McCardell played on teams coached by Belichick. Klemm was on the Patriots from 2000 to 2004, McCardell played on Belichick's teams in Cleveland from 1992 to 1995 and Jefferson was in New England in the mid-to-late 1990s when Belichick was an assistant coach in Foxborough in 1996.
The Patriots' offensive struggles this season played out publicly at times and featured two expletive-laced tirades by Jones. In one instance Jones was captured by TV cameras on the sideline bemoaning the approach to the passing game. In another he showed frustration on the field over the pace (or lack thereof) in which plays were being relayed to him.
While Jones downplayed his frustrations in his interactions with reporters, he did hint at a desire to open up the playbook and for the coaching staff to take more chances. He also noted a wish to be coached more aggressively.
In the hiring of O'Brien that wish may soon be realized.
O'Brien is known for an at times intense style and was given the name "teapot" by Patriots players for his tendency to let his temper boil over.
It played out when he infamously clashed with former Patriots quarterback Tom Brady on the sideline after Brady threw an interception during New England's win over Washington in 2011.
In a radio interview in 2017 Brady called it emblematic of O'Brien's passion to succeed.
"That's Billy's style," Brady said. "Billy's gonna let you know if he doesn't like something that you did. He handles it in the right way, in a way that you really respected. You know he's fiery, you know he just wants to get the job done."
___
AP Pro Football Writer Rob Maaddi contributed to this report.
___
AP NFL: https://apnews.com/hub/nfl and https://twitter.com/AP_NFL