US ends probe into Ford SUV exhaust issues without a recall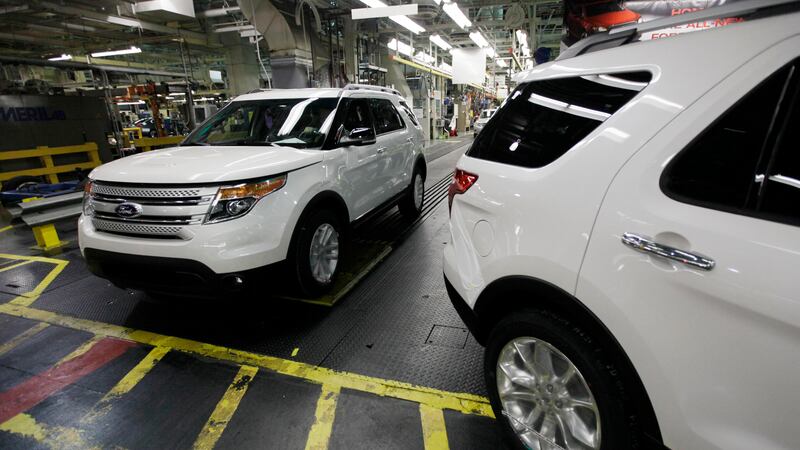 Published: Jan. 23, 2023 at 9:06 AM EST
|
Updated: Jan. 23, 2023 at 12:12 PM EST
DETROIT (AP) — The U.S. government's road safety agency has closed a more than six-year investigation into exhaust odors in Ford Explorer passenger cabins, determining that the SUVs don't have high levels of carbon monoxide and don't need to be recalled.
The National Highway Traffic Safety Administration says it reviewed more than 6,500 consumer complaints, tested SUVs in the field and called in automotive, medical, environmental health and occupational safety experts before making the determination.
The probe covered nearly 1.5 million Explorers from the 2011 to 2017 model years. NHTSA said it received multiple complaints of sickness and crashes caused by the exhaust fumes that involved three deaths and 657 injuries. Many complaints came from police departments that used Explorer Police Interceptors as patrol vehicles.
But the agency said in documents released Monday that it used rigorous test methods to send exhaust gas into vehicles. No Explorers with bodies that were sealed under a 2017 Ford field service campaign had carbon monoxide levels that were higher than Environmental Protection Agency limits.
The agency, though, conceded that fumes had leaked into the Explorer cabins. "NHTSA recognizes that hypersensitivities to CO and other exhaust gas constituents exist within the overall population," investigators wrote. "However, the agency does not set limits or determine the adequacy of established safe levels."
The agency determined that sealing issues due to installation of sirens, lights, cages and other items in police SUVs were responsible for the highest measured carbon monoxide levels in vehicles it tested. The highest carbon monoxide levels in consumer vehicles were usually traced to sealing issues caused by repairs after rear crash damage, NHTSA said.
Even without Ford's sealing repairs, no vehicles without crash damage or police equipment installed had carbon monoxide levels that exceeded acceptable levels, the agency wrote. "Therefore the agency has not identified a defect that represents an unreasonable risk to motor vehicle safety," the agency wrote.
The agency said it got thousands of reports alleging odors that triggered a variety of responses, largely nausea, headaches and lightheadedness. NHTSA said it focused its investigation on accurately measuring vehicle carbon monoxide levels and carboxyhemoglobin levels from "properly administered blood tests."
In a statement Monday, Ford said it was pleased that the investigation found no unreasonable risk to vehicle safety. "Ford's previous investigation and extensive testing determined the same results, which we have always maintained," the company said.
At first Ford offered the sealing repairs only for emergency vehicles, but later it expanded the repairs to civilian versions after thousands of complaints about fumes leaking into passenger cabins. Mechanics at dealers were to check for leaks in the rear lift gate gaskets and drain valves. If any leaks were found they were sealed to prevent fumes from entering. The heating and ventilation systems were also reprogrammed to let more fresh air in.
Even after the repairs were made, NHTSA continued to get complaints about exhaust odors inside the Explorers.
At one point in 2017, the Austin, Texas, police department took 400 Explorer Police vehicles out of service over concerns of carbon monoxide in the cabins. But the department put them back on patrol after Ford made repairs to exhaust tips and lift gates and fixed other issues.
NHTSA also said it investigated cracked exhaust manifolds and tested the service campaign repairs to make sure they didn't affect cabin fume levels.
The nonprofit Center for Auto Safety in Washington in 2018 had called on Ford to recall all of the Explorers due to the high number of complaints. On Monday, Executive Director Michael Brooks said it appears that Ford's service campaign took care of the problem, but he questioned why it took NHTSA so long to examine the issue and make a decision.
He also said that NHTSA should seek recalls of all Explorers with crash damage to make sure the bodies are sealed.
Copyright 2023 The Associated Press. All rights reserved.