Vigil planned Saturday after 100+ homes damaged, destroyed in LaGrange tornado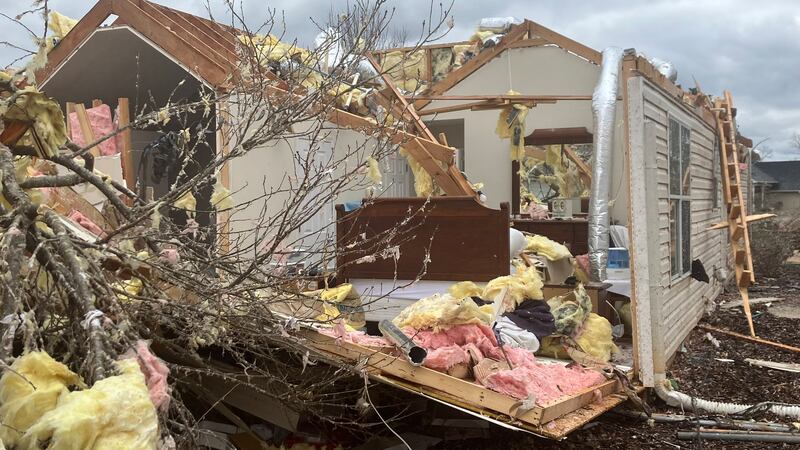 Published: Jan. 13, 2023 at 6:31 PM EST
LAGRANGE, Ga. (Atlanta News First) - There's no doubt a tornado touched down in LaGrange on Thursday, but it will likely take officials another day or so to determine its strength and path, according to the National Weather Service.
On Friday, city leaders held a press conference to provide an update about the storm that damaged more than 100 homes and displaced at least three families.
Valerie Joslin lost everything. She said by the time her husband ran through the door of their house Thursday afternoon and into the closet where she was hiding, the reported tornado was already ripping through the Baldwin Park subdivision on the south side of the city.
"It was fast," she said. "You could just hear it go boom and pull apart and walls shifting, and [my husband] just got this look on his face like, 'Oh no' and just threw himself on top of me."
The couple walked away unscathed. Officials said at least four people were treated at a local hospital for "non-life threatening" injuries.
"When you look at some of the damage it's truly amazing people survived some of this," said Dave Nadler, the warning coordination meteorologist at the National Weather Service in Peachtree City.
On Friday, Nadler was in Troup County looking for damage indicators to determine the intensity and path of the tornado, which may have continued into surrounding counties.
"Damage indicators like houses, structures, warehouses, power poles, trees, you name it," said Nadler. "So, anything that actually sustains damage we can then assign a degree of damage to get an estimated wind speed for those indicators we see along the path."
Nadler said the damage surveyed in LaGrange on Thursday points to an EF1 or EF2 tornado, meaning winds may have been over 110 miles per hour. However, it was still preliminary.
"It's unbelievably sad," said Joslin.
While she and her husband are happy to be alive, Joslin said it's tough to say goodbye to the home the couple shared for nearly 20 years.
"We're older, 60s and 70s and it's like starting over," she added. "It's kind of hard to fathom at this point."
The Red Cross has a shelter open at First Baptist Church, located at 552 Hammett Road. People in need of assistance can call 1-800-733-2767.
A vigil is planned for Saturday at 5 p.m. on Lafayette Square.
Copyright 2023 WANF. All rights reserved.