Red Cross: It's important to donate blood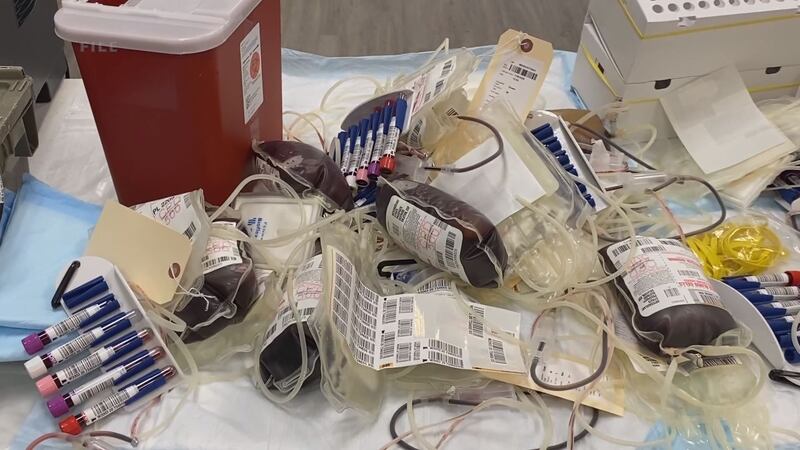 Published: Jan. 11, 2023 at 3:41 PM EST
TIFTON, Ga. (WALB) - January is recognized as National Blood Donor Month.
Adelaide Kirk, executive director of the American Red Cross of SWGA, told WALB News 10 that this time of the month is a challenging time for blood collections.
Experts say every two seconds, someone in the United States needs blood. That could be from anyone experiencing a car crash to health problems like sickle cell or cancer.
The Red Cross declared the first-ever national blood crisis last January. Although that is no longer the case now, Red Cross officials said they are still in dire need of blood donations.
"We are not in a crisis, but January is always a very difficult time for blood collection. You can imagine in January coming off the holidays, we have severe winter weather coming across the country, which can cause blood drive cancellations." Kirk said.
Health professionals say O+ blood is the most common and transfused blood type they need. They are required to take over 12,000 units of blood every single day just to meet the blood needs for health centers.
"But O- is very important because it is that blood type trauma center reach for the emergency rooms when they don't have time to blood type somebody, but we need all blood types though," Kirk said.
The Red Cross provides about 40% of the nation's blood supply.
Kirk said 62% of our population is eligible to give blood but pointed out that only 3% of the population actually gives it.
Kirk said it really is important that everybody pulls one hour to 90 minutes out of their day that it takes from beginning to end of the blood donation process.
The Red Cross is implementing incentives to try to increase blood donations. If you give blood through the American Red Cross, you will be entered into a raffle to win free tickets to attend this year's Super Bowl.
Copyright 2023 WALB. All rights reserved.