600 potential jurors being questioned as Young Thug jury selection continues
Three pools of 200 jurors each are being examined this week.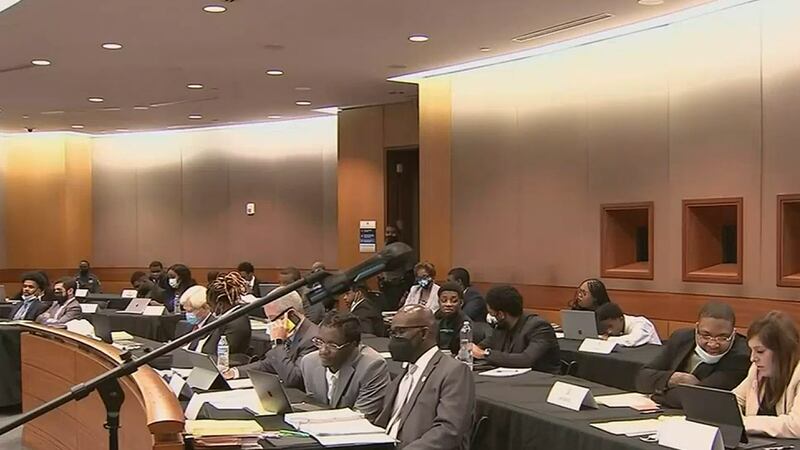 Published: Jan. 9, 2023 at 8:57 AM EST
|
Updated: Jan. 9, 2023 at 1:51 PM EST
ATLANTA, Ga. (Atlanta News First) - Jury selection in the complex trial involving Grammy award-winning rapper Young Thug entered into its second week on Monday, with prosecutors and attorneys examining a pool of 600 jurors to try to whittle it down to a final, impartial panel.
"The jury selection process in the Young Thug trial is likely to last at least another week," according to Atlanta News First reporter Don Shipman. "On Friday, a third round of about 200 jurors were briefed on the case."
Shipman said jurors watched a four-hour video of Judge Ural Glanville reading the entire indictment of Young Thug, whose real name is Jeffery Williams.
In an interview with CBS Mornings, former DeKalb County prosecutor Chris Timmons – who's not involved in this case – said he's used rappers' music videos to link them to criminal street gangs.
"If you've got a confession, whether that confession rhymes, whether it's set to music, you're going to want to use it if you're a prosecutor," said Timmons. "Same thing with defense. You're going to want to keep it out."
New Orleans rapper Mac Phipps rose to fame in the late 1990s, but it all came crashing down in 2000 when he was convicted of manslaughter, in part because of rap lyrics from one of his recordings.
"You took two different songs, splice them together to make what you feel ... to basically make the statement you wanted to make," Phipps said of prosecutors.
Phipps was granted clemency after serving 21 years and was released from prison in 2021.
As for this case involving the alleged gang "YSL," Fulton County District Attorney Fani Willis has been criticized over her decision to use rap lyrics as evidence.
"If you decide to admit your crimes over a beat, I'm going to use it," Willis said last year.
RELATED: Full coverage of Young Thug trial
On Monday, jurors began answering questions that generally involve what they know about the case as well as any hardships they may encounter if chosen as a juror in the trial.
Williams is facing eight criminal counts under a federal law that was originally enacted to fight organized crime.
Copyright 2023 WANF. All rights reserved.