USPS explains shipping delays this holiday season
Published: Dec. 21, 2020 at 6:48 PM EST
ALBANY, Ga. (WALB) - Dec. 14-21 was predicted to be the busiest mail week of the season, according to the United States Postal Service (USPS).
Some people are experiencing shipping delays.
Lawrence Knighton is one of those people.
"There was a package mailed on Dec. 7 that is still not received. So, I went online the other day to track the package only to discover I had to put in my zip code. I put the zip code in, and the reason why they say that the package is late is simply because of a shortage of employees in this area due to COVID," said Knighton.
WALB requested an interview with United States Postal Service. They denied the request.
However, they sent the following statement to WALB: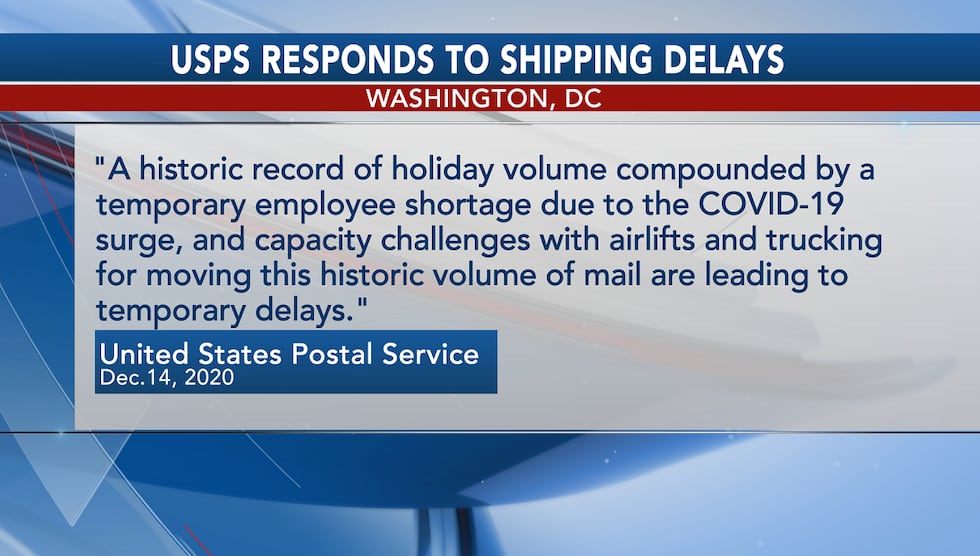 USPS also said that they're taking new initiatives this year so packages arrive on time, like extending holiday hours, hiring seasonal employees, and Sunday delivery in some cities.
Steve Burnfin is also waiting on one package to arrive.
He said his postal worker has been doing a good job this season.
"It's a lid for a hot tub, you know a hot tub cover. But other than that, they've already delivered everything we were waiting on. So, great job," said Burnfin.
Despite the delays in shipping this year, Knighton said postal workers are doing the best they can and that customers should be empathetic.
"You're talking about all of your postal, your FedEx, and UPS — they're all working extra overtime to make packages arrive for people. I think sometimes we can overlook the fact that they're out here, away from their families, away from their kids, to try to make things better for people for Christmas. And at the same time, we have to make sure that we give them their props for sacrificing the time with their families," Knighton said.
Copyright 2020 WALB. All rights reserved.