Team of the Week: Colquitt County Packers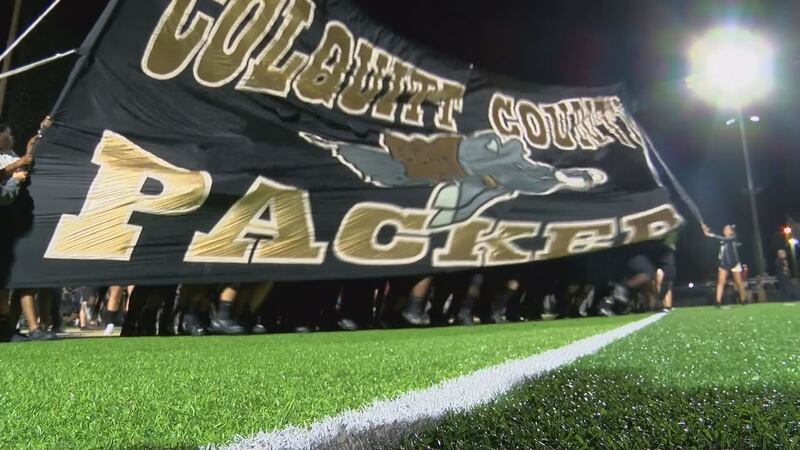 Published: Nov. 30, 2020 at 10:10 PM EST
MOULTRIE, Ga. (WALB) - 8-0 for the first time since 2018, the Colquitt County Packers showed everyone why they're one of the top teams in 7-A.
Friday night they defended the hog pen and sent Brookwood packing.
Colquitt advanced to the second round with a 49-3 victory and that's why they're our Team of the Week.
Colquitt came out strong and only got better as the game progressed.
At half time the Pack led 35-3 and added 14 more to it by the end of the night.
Packers QB Zane Touchton played lights out against the Broncos.
He was 15 of 17 for 287 yards and recorded four touchdowns.
On the other side of the ball, the Pack's defense kept Brookwood's QB uncomfortable all night.
Coming up with four sacks and returning an interception for a touchdown.
Head Coach Justin Rogers said this cohesion across the team is needed if they want to move onto the next round.
"I thought we started off just so good. We got the opening kickoff, we went 8 plays, a nice little drive, picked up two third downs, and got a touchdown. We kick off and get a three and out immediately on defense who played great. Punted to offense who put together six-play drive and scored another touchdown," said Rogers.
Rogers continued: "If we're going to continue to move on week after week and each week is going to get tougher, we're going to have to rely on three aspects. It's always big when you get that first one, you always want to win that first playoff game, get the momentum going. But to be able to do and do it in a really positive fashion in all three areas is very rewarding and satisfying going into week two."
Rogers and company will host Walton in the quarterfinals, Friday.
Copyright 2020 WALB. All rights reserved.