Team of the Week: Colquitt County Packers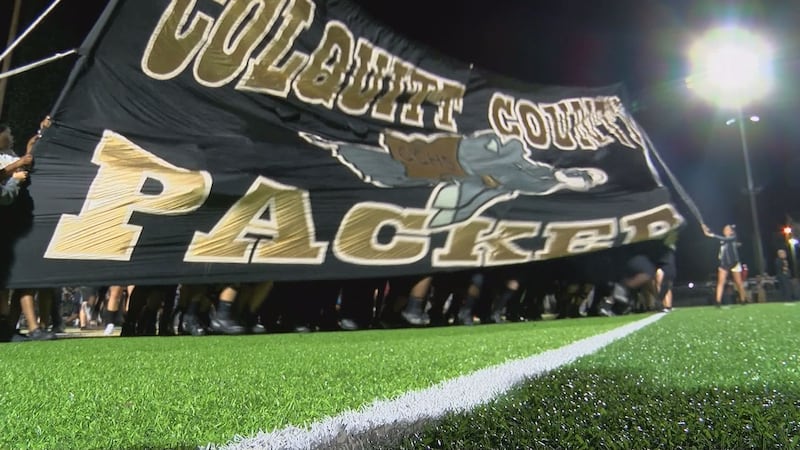 Published: Nov. 9, 2020 at 9:42 PM EST
MOULTRIE, Ga. (WALB) - The Colquitt County Packers worked the Lowndes Vikings Friday night.
Handing them their first regular-season loss since 2018.
The Packers defended the Hog Pen and advance to 6-0 on the year and that's why they're our Team of the Week.
The Packers defense managed to hold the Vikings to its fewest points since 2018 when the two met in region play.
In their 40-10 victory, TJ Spradley recorded two interceptions and recovered a muffed punt.
While Jahiem Ward returned an INT for 70 yards.
In spite of off the field battles with COVID-19, this team is showing no signs of rust.
Colquitt put on a clinic Friday night and Head Coach Justin Rogers said they executed their best complementary football of the year.
"The pride of Moultrie. Just the pride this community has for its football program. The pride these boys have for playing for this program. That's the biggest thing, these kids play so hard for each other. They were unselfish, they didn't care who caught the ball, who made the tackle, who got the stat line. They just simply wanted to play well for each other. We kept the quarterback from making the big run and that's the biggest thing. Every game he's played in he's popped a 50-yard run, along touchdown run somewhere. We were able to keep him corralled, keep him in the pocket. I thought we played really well, our best game in all three phases in one night," said Rogers.
The Packers will make a quick trip to Tifton this Friday to take on Tift County.
Copyright 2020 WALB. All rights reserved.