Rush Propst fired as Colquitt Co. football coach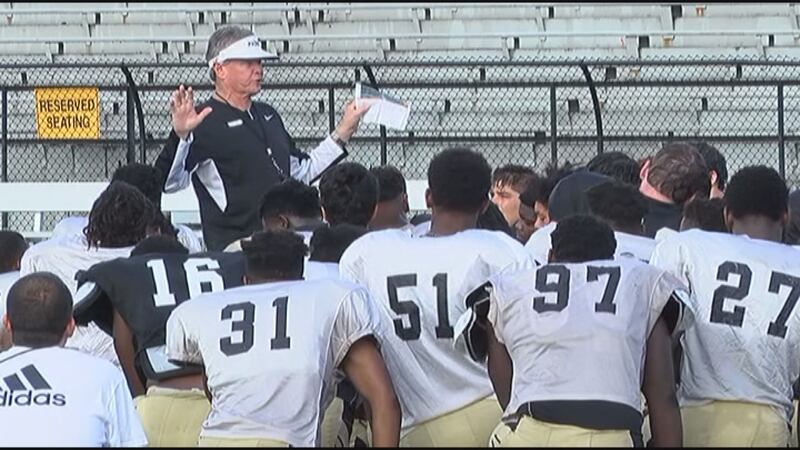 Updated: Mar. 14, 2019 at 5:04 PM EDT
MOULTRIE, GA (WALB) - Rush Propst, the Colquitt County Packers head football coach, was fired late Thursday afternoon.
Following a more than two-hour closed session, the Colquitt County Board of Education voted unanimously to fire Propst.
This decision stunned the audience.
The main question that has gone unanswered for many is why the board believes this is the best outcome.
Superintendent Doug Howell told WALB at the Thursday meeting that the school board's investigation was finished.
In their statement, they read their top priority is the safety of their students, and they will make appropriate decisions that do not threaten their safety.
The Georgia Professional Standards Commission has taken over the case, according to Howell.
They said more insight into this matter may be revealed after the GPSC concludes their investigation.
Howell told WALB he wasn't sure when the commission would be coming to take over the case.
The Colquitt County School Board met for a called meeting Thursday afternoon.
A total of fourteen people signed up to speak on Propst's behalf at the meeting.
In a packed room, each speaker defended Propst's character and coaching abilities.
A current Colquitt County Packer went to the podium and asked for all current and former players in the audience to join him in presenting a petition to the board. The petition garnered more than 1,000 signatures in 42 hours.
Another player, senior Will Rykard, said that without Propst's guidance, he wouldn't know where his life would be headed.
"I've been through every situation that you could possibly go through. He's chewed me out, he's helped me through hard times, he's picked me up, he's done everything he possibly can do. Without him I wouldn't be going to UAB (University of Alabama at Birmingham), who knows where I'd be going," said Rykard.
Many speakers said Propst has done wonders for the African-American community.
After the speakers, the school board went into closed session.
This is a developing story and we will update as more information becomes available.
Propst was suspended with pay in February.
The head football coach was placed on administrative leave for an internal investigation into personnel issues.
The Colquitt County Packers have had Rush Propst at the main headset since 2008.
But for the first time in 11 seasons, the Packers won't have Propst on the sideline.
"We brought him here to do one thing, win football games. And he has won football games since he's been here."
Since the news of the suspension of Colquitt County's head football coach Rush Propst broke, community members have done everything they can to help bring him back to the sideline.
Speaking on coach Propst behalf, hoping to shine a light on what he's done for this community, and team.
"I can tell you this, I've had a front row seat to the way Rush, Stephanie, and his whole family takes care of these kids. And it's nothing short of selflessness."
One by one, community members shared their testimony.
Even former players told the board, just what Rush has done for them.
"He's just so much more then a coach. And, you know him, you know he likes to win. But, what really matters to coach Propst and what he considers winning, is if he can enrich a young mans life and structure, like he did with our football program that he's built since 2008, he does that."
Since 2008, Rush has been able to send 131 former players off to a college or university to further their education, and some of those players returned and showed their support, and were even able to collect 1800 signatures for coach Propst.
But in the end, the board voted to fire Propst from the Packers.
Copyright 2019 WALB. All rights reserved.