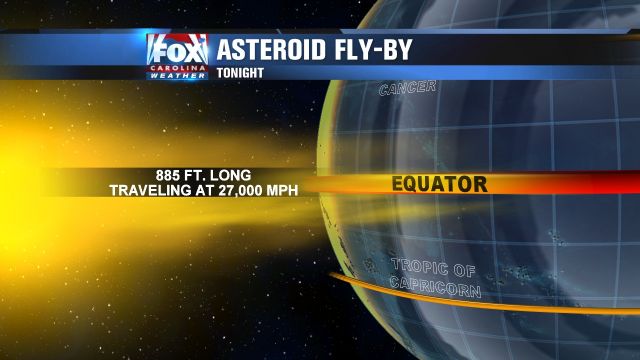 First off, I want to emphasize that the asteroid will NOT come close enough to cause problems on earth. I mention it because this is a rather large asteroid and it is coming fairly close to the earth. It is the size of 3 football fields, and will be passing by us at a distance of around 2 million miles (8.8 lunar distances). That may not sound like a "close call", but that's not much distance in the grand scheme of space! This will begin around 9pm EST. You can see a live webcast of the pass-by at http://events.slooh.com/. You need a telescope to see it.
Back to the troposphere we go... Our weather is looking a bit rainy overnight. Just spotty showers for the Upstate, and a few patches of freezing rain will be possible in the mountains. Overnight lows will drop to around 40 in the Upstate and northeast GA, while the mountains will get to 30-33.
Tuesday and Wednesday look mild! Highs will reach the 60s, and can't rule out a few low 70s by Wednesday. We'll get a quick shot of rain on Tuesday night, then the main event arrives Friday as a cold front pushes in. Heavy rain and embedded t-storms will be likely Friday morning through early afternoon. There will be a slight severe threat, with mainly damaging winds. Tornado threat looks low at this time, but can't be ruled out. We should clear Friday night and see a pleasant weekend! We'll keep you posted on the line of showers and storms for Friday as we draw closer.
Lastly, if you hadn't heard, we experiences an earthquake on Friday, then an aftershock on Sunday. Earthquake was a 4.1 magnitude, while the aftershock was a 3.2. Anything in the 3's typically is mildly felt but no damage, while a 4.1 is felt by most around the area and minor damage is possible. The epicenter was located in Edgefield, SC, and that is where some minor damage did occur. The earthquake could have been a result of a nearby dam (water seeping into cracks well below the earth's surface, which created extra pressure). Or it could be the small fault line that runs near Edgefield. There is no way to know if this quake was a precursor to a larger one.
Hope you all had a great weekend! I know many of us will have stories for years to come about where we were during the Valentines earthquake of 2014! I was in the studio doing the 10pm news and saw our lights moving along the ceiling rafters. I never really felt anything, but could sense things moving and vibrating around me! It was my first experience with an earthquake, and we went on the air for the next 2 hours covering it!